Tim the Yowie Man: Winter of discontent
Tim the Yowie Man can't wait for spring in the wake of the great snowmen hunt during winter.
It's the last official weekend of winter, and thank goodness for that. Don't get me wrong, I've actually enjoyed the crisp mornings (yes even that - 8) and the clear sunny days which invariably followed, and I'll miss the curling up in front of an open fire with a book. However, for me, winter 2014 has been a bit of a challenge, due entirely to an obsession with snowmen among the younger members of the Yowie household.
Yes, snowmen! Inspired by Olaf, the hapless, yet lovable snowman who stars in the Disney animation Frozen (based on Hans Christian Andersen's fairytale The Snow Queen), the past three months have been one long quest for my two daughters Emily, three, and Sarah, Seven, to make (or find) as many snowmen as possible. You'd think you'd need snow to make snowmen, but it appears not - in early June, when one of my beanbags burst (somewhat ironically while the kids were enthusiastically dancing to the Frozen soundtrack) Emily and Sarah saw it as an opportunity to craft a snowman out of the thousands of Styrofoam balls which promptly filled the lounge room. As you can imagine, it didn't end well - for weeks, every time I went fishing for the TV remote control which often becomes wedged down the back of the sofa, I ended up with a handful of the clingy white balls.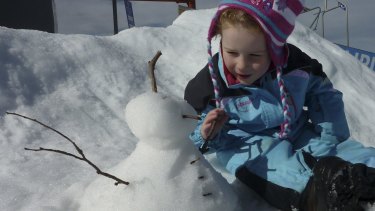 Then, once the temperature really started to plummet in mid-June, our snowman quest began in earnest. First, the kids desperately tried to mould the morning ice scraped off the Yowie mobile's windscreen into a mini Olaf. These failed attempts were soon followed by a couple of weekend trips to Corin Forest, where the small patch of man-made snow proved too icy (and too dangerous for a snowman to survive the onslaught of hundreds of toboggans). Mrs Yowie and I eventually realised we had to bite the bullet and make the pilgrimage further afield to Selwyn Snowfields, which has experienced its best season in more than a decade.
During our first excursion to the family-friendly resort, the 2½-hour drive was progressing well until, during a pit-stop in Cooma, the girls noticed the giant, wooden cut-out snowmen above the shop facades in the main street. Now while they aren't exactly Olaf lookalikes, Emily and Sarah took great delight in dragging me the full length of the street counting them. We lost count at about 31 (the main street is longer than you think!) and when we finally made it to Selwyn, most people were already leaving for the day. However so desperate were the girls to make their very own Olaf that they raced over to the pile of snow which had been crudely ploughed off the car park and made a mini, albeit mud-coloured Olaf.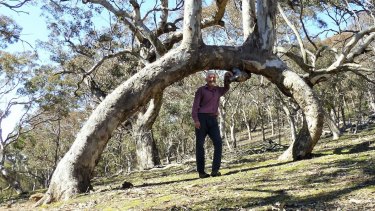 In between what became semi-regular excursions to Selwyn (thankfully, we also did some skiing), on that weekend in July when the Bureau of Meteorology (BOM) predicted the possibility of snowfalls in Canberra's suburbs, both Saturday and Sunday in the Yowie household were spent peering out the window, carrot (for nose) and branches (for arms) broken off my prized dogwood tree (note to kids: a deciduous tree is not a dead tree!) at the ready. The BOM were spot on, it did snow at our place – all seven (or was it eight?) fluffy flakes of it. Even the best minds in Silicon Valley would have trouble engineering a snowman out of just seven snowflakes, let alone two little girls.
It was Sarah's seventh birthday a couple of weeks ago, and naturally the party was Frozen-themed. Our 1970s Woman's Weekly 'Children's Birthday Cake Book' doesn't feature an Olaf so the high-pressure job of producing a Frozen-themed cake was outsourced to Amy, one of Mrs Yowie's work colleagues (besides Mrs Yowie was too busy still vacuuming up Styrofoam balls). Meanwhile, our lounge room was transformed into a virtual film set with life-like posters of Olaf and giant cardboard cutout snowflakes adorning the walls and ceiling. On more than one occasion when we weren't home, our heater (on a timer) caused some of these snowflakes positioned near air vents to blow around, triggering the sensor on our alarm. Lucky we have understanding neighbours.
On party day, when Amy arrived looking bleary eyed, I feared the worst. I thought she was coming to apologise that she'd been out on an all-night bender (an understandable reaction if faced with such a task) and had failed to produce the goods. But thankfully, she did have the knockout cake in tow, which had taken her most of the night to decorate. "Making Olaf was the hardest bit, he took hours," explained the weary cake maker, half-smiling, half-cringing as Sarah screeched in delight, almost knocking over the perfectly sculpted snowman.
The party went well, the cake was gobbled up, and most importantly my other beanbag wasn't ripped to shreds.
According to the calendar winter is over tomorrow, however, don't put away the winter woollies quite yet, because we invariably get a couple of sub-Antarctic blasts in early September. I, for one, definitely won't be lulled into a false sense of warmth, for Emily's fourth birthday is on September 22, and you guessed it, she's also demanded a Frozen party.
We've already tried to ask Amy to make another Frozen cake, but she's not answering our calls. I can't imagine why not. Bring on spring.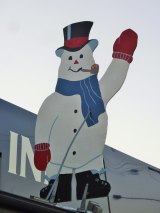 Melting moments
The Wikipedia entry for Frozen is about 27,000 words long - tellingly much more than the entries of many significant global events such as the Apollo II moon landing (around 10,000 words). Another sign of the animation film's popularity is the proliferation of snowmen which have popped up on the side of the road between Kiandra and Selwyn Snowfields this season. This one complete with a scarf has survived since the first big falls of the season in June and has been touched up each day by the passing parade of Frozen fans en route to the snow. I wonder how long it will be before he is reduced to a mere puddle.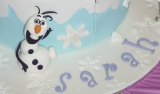 Even the best minds in Silicon Valley would have trouble engineering a snowman out of just seven snowflakes, let alone two little girls.
Spotted: Arch tree
Hot on the heels of last week's Toucan-shaped tree in Gungahlin, keen bushwalker Matthew Higgins reports one of his favourite trees on Mt Ainslie is this 'arch tree' which is rooted to the ground at both ends. Higgins, "can only assume that it got blown over at an angle and that the main trunk grew into the ground and somehow took root, before the branches went vertical and became surrogate trunks". Are there other arch trees around Canberra? It's the first I've seen.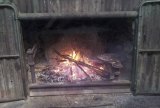 Mailbag: Best burners
This column's expose on our region's best open fires (Fireside Yarns, 16 August) prompted a number of readers to nominate their own favourites fires. Grazing restaurant at Gundaroo proved a popular choice with many including Caroline Wardrop, who "loves it when you score a table right next to one of the fires there". For south-siders, Rose Cottage Inn (cnr Monaro Highway & Isabella Drive, Gowrie) was highly recommended by several readers including Julie Pangalos, who hosted a joint birthday party there a few years back in midwinter and reports "that the fire was a doozy!"
Meanwhile, both Jeremy Hagan and Thomas Shultz were somewhat disappointed the fire (which you have to light and extinguish yourself) at the Blue Range Campground (near Uriarra) didn't make my top five. Schultz, recently "toasted marshmallows in the hut while sheltering during a rainstorm", while Hagan fondly recalls "thawing out in front of the fire on the way back from a peek at the snow in the Brindabellas".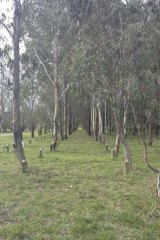 Meanwhile, enticed by this column's recent visit to the old Ginninderra Schoolhouse, earlier this week Chris Blunt "enjoyed a BLT sanger in the headmaster quarters of Sweet Copper" while the fire was crackling away. "It was toasty and cosy," reports Blunt, who also thought "the monochrome prints of Canberra were a nice touch to the historical and quaint dining room".
Best weekend
What: Para-rowing Come & Try Day
When: Tomorrow, August 31, 9am-noon
Where: Causeway Drive, Kingston Foreshore
Expect: An opportunity to learn about para-rowing, check out the para-rowing facilities and have a go!
Did You Know? Para-rowing allows people with physical or intellectual impairments to enjoy recreational or competitive rowing in a fun and supportive environment.
More: Ph: 6273 7477 or cbarton@gmail.com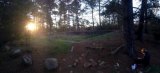 Contact Tim: Email: timtheyowieman@bigpond.com or Twitter: @TimYowie or write to me c/o The Canberra Times 9 Pirie St, Fyshwick. A selection of past columns is available at: A selection of past columns is available at canberratimes.com.au/act-news/by/tim-the-yowie-man.
Where in Canberra?
Clue: Mystery ruin in an industrial heartland
Degree of difficulty: Hard
Last week: Congratulations to Sonja Zeylemaker of Giralang who was the first to correctly identify last week's photo as the ACT Landcare Memorial Forest near the corner of Owen Dixon Drive and William Slim Drive in Belconnen. Sonja, who reports that "it's a great place to walk dogs and let children run", beat many other observant north-siders to the prize, including marriage celebrant Ann Marie Tarry, who "performed a marriage ceremony for a local couple in the park in late 2011".To celebrate Landcare Week a number of local care groups including ACT Wildlife and the Ginninderra Catchment Group are holding a special event tomorrow (August 31) at the memorial forest and adjoining Palmerville Heritage Park between 11am and 3pm. Don't miss the indigenous heritage walk (130pm-3pm). More: Ph: 6278 3309 or www.ginninderralandcare.org.au
How to enter: Email your guess along with your name and address to timtheyowieman@bigpond.com. The first email sent after 10am Saturday, August 30, with the correct answer wins a double pass to Dendy cinemas.