Time is up for Canberra's fat, unrestrained cats
Canberra's spreading urban development among extensive nature reserves and bush has set a dinner table for the most accomplished killers of our wildlife, cats.
The ACT Government is considering registration of the city's 56,000 cats and widening cat containment suburbs beyond the new suburbs to cover all of the territory.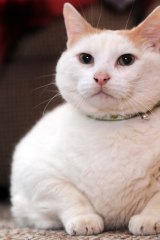 A response from the first complaint from a cat containment suburb, North Watson, and research for a background paper for cat registration indicate Canberra lags other jurisdictions on responsible management of cats, and is losing rare and valuable birds, reptiles and insects.
Fenner School of Environment PhD student Kathy Eyles and ACT Government senior environmental planner Michael Mulvaney's background paper recommends declaring nature reserves, wilderness areas and national parks as cat containment places, as well as phasing in all suburbs over three to seven years.
Declaring reserves in this way would enable rangers to trap roaming cats without their owners knowledge and have them microchipped and returned to owners, with a warning, or fine.
Extensive research included studies on "super predators" - cats which roam up to a kilometre from their home and pick off certain species, such as the legless lizard, and wipe it out.
The new suburb of The Fair at North Watson adjoins Mt Majura nature reserve, where fears are held for a colony of sugar gliders, and rare regent honey eaters, swift parrots and scarlet robins.
A complaint about roaming domestic cats at North Watson led to the independent Commissioner of the Environment's office investigating all the new suburbs, identifying lack of signage, awareness or education on cat management.
The office's senior manager Julia Pitts said at the time of inspecting Molonglo, where all suburbs are cat containment, no signage was apparent.
The office has recommended education and awareness for residents, real estate agents, developers, body corporates and pet shops and has suggested using rate notices and car registration renewals to spread the message.
Meanwhile the ACT Conservation Council will letterbox 10,000 households in new suburbs on responsible management of cats, and will undertake other measures using a $45,000 Caring for Country grant.
Executive director Clare Henderson said awareness had fallen away.
"The Conservation Council, ACT and Commonwealth governments and Ginninderra Catchment Group did an education program about containment, even before land sales at Forde.
"That (cat containment) became an attraction for buyers of land in the suburb," Ms Henderson said. "But the third and fourth wave of buyers, and renters coming into the community don't have that education, and enforcement is patchy."
Research going back decades includes injury and mortality statistics showing blue-tongue lizards, fairy-wrens and ring-tailed possum are among many native species killed or injured by cats.
A North Lyneham cat owner once froze 20 prey specimens of olive legless lizards. Ecologist Dr Will Osborne, who identified the specimens said this one cat would have reduced the local population of the legless lizard to a non-detectable level.
ACT registrar of domestic animal services, Fleur Flanery, said her department had recognised awareness had declined, and was working with the community and Conservation Council and real estate agents to overcome the problem.
"Registration and cat containment will only work if we get support from the community because in its current form there is a certain impost in terms of, if you have a cat, you need to build a containment area. Although it's safer to have your cat in one of those areas, there is a cost. or you keep it inside, lots of cats love being inside."
Another aim would be standardising signage, including for the main entrances to suburbs.
"At the heart of matter, we need to get into people's homes, when people are purchasing cats and to be aware if they live in one of these (containment) areas, they'll have to have that cat contained.