Tom Rogic opens up about World Cup heartbreak with Socceroos
Canberra football star Tom Rogic has opened up about his World Cup heartbreak, revealing the devastation of missing out on a childhood dream and saying the injury battle became too much to handle.
Former Socceroos captain Paul Wade expected Rogic's omission and said there was no room for sympathy when it came to picking a squad for the world's biggest stage.
Rogic was cut from the Socceroos on Tuesday night, one of four players left out of Australia's final 23-man squad.
He struggled with his groin injury, rumoured to be osteitis pubis, late last year at Scottish giant Celtic and it continued to plague him when he went on loan to Melbourne Victory.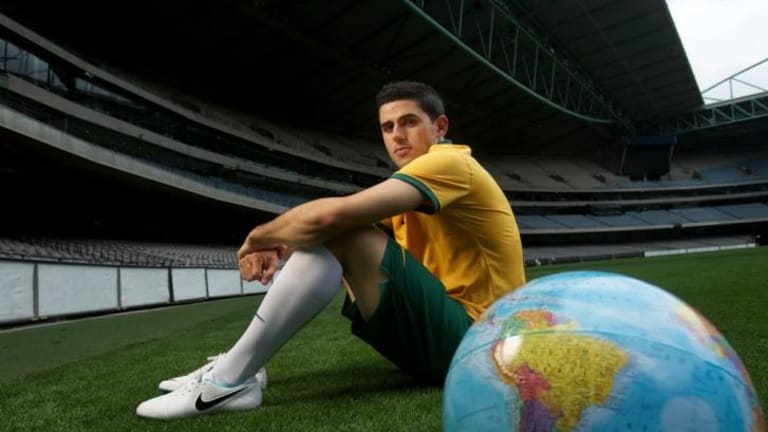 Eventually it forced Socceroos coach Ange Postecoglou's hand, and shattered 21-year-old Rogic's dream of playing in Brazil.
But the Canberra junior will use his World Cup disappointment to drive him to greater heights.
"Today I experienced one of the toughest days of my life," Rogic posted on Instagram with a photo of him lying on the ground injured.
"I have missed out on a childhood dream, something I have worked so hard for.
"My body hasn't allowed me to take the opportunity I have been given. After giving my all, trying to play through the pain, it all became too much.
"I can honestly say I did everything I could to make my dream come true. The feelings I have now will drive me to become a better person and footballer and, hopefully, come back stronger than ever."
Wade said it had been clear Rogic wasn't 100 per cent when he was on loan to Victory for the second half of the A-League season, and he wasn't surprised the young Canberran missed the cut.
He said you needed to be fully fit to play against some of the best teams in the world and felt Postecoglou had no choice but to go with the squad he picked.
"I'm not surprised, not surprised at all, with that injury you could see that he wasn't 100 per cent when he was playing for Melbourne Victory," Wade said.
"With the standard that Ange has set, if you're not 100 per cent fit, plus a little bit more, then you are going to struggle.
"It's scary when you go out against these international teams that have got everything to play for.
"They live for this competition and, when you pick the two finalists from the last World Cup [Spain and Holland] and the third best team from South America [Chile], there is no room for sympathy or empathy or anything else.
"It's black and white, there's no emotion involved."
Wade hoped the groin problem was just an episode and didn't become a long-term torment.
He agreed with Rogic that the pain of missing out on the World Cup could drive him to return bigger and better.
"It doesn't mean [his World Cup dream] is over by a long shot," Wade said.
"So deal with the disappointment, make sure you never forget it and make sure the next coach or Ange Postecoglou have got no choice but to pick you next time."
Socceroos veteran Josh Kennedy (back) also lost his battle with ongoing injury problems.
Young goalkeeper Mark Birighitti and another Socceroo veteran of the 2006 and 2010 World Cup campaigns, Luke Wilkshire, are the other two players left out.

Chris Dutton is a sports reporter at The Canberra Times.
Morning & Afternoon Newsletter
Delivered Mon–Fri.