Top students vie for $100,000 ANU scholarships
Imagine facing an interview panel comprised of a millionaire businessman, a Nobel laureate, and a former Defence chief – now imagine you're just 17 years old, and haven't yet finished high school.
Some of Australia's brightest young students are in Canberra this weekend to vie for one of 25 $100,000, five-year scholarships at the Australian National University.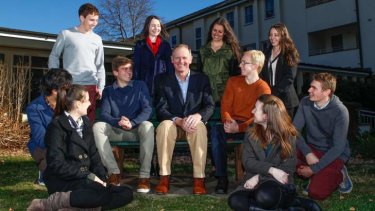 The scholarship, the result of a $50 million donation by businessman and former Canberra boy Graham Tuckwell, aims to become Australia's answer to Britain's world-famous Rhodes Scholarship.
Mr Tuckwell, who went to school in Canberra and went on from an ANU degree to lead a multi-billion dollar investment company, has flown into Canberra from his Channel Island home to personally vet 72 candidates chosen from a pool of more than 650 applicants.
The students, 70 of whom have been brought to the ANU for a weekend of interviews, will face three individual interviews and a group interview before an ANU panel that includes Mr Tuckwell, Nobel laureate astronomer Professor Brian Schmidt, ANU deputy vice-chancellor Professor Marnie Hughes-Warrington, and former chief of defence Admiral Chris Barrie.
But if any of the candidates are worried, they can take solace in Mr Tuckwell's own mix of excitement and fear.
"This is not a well-worn path for me, so I'll be just as scared as they will be," said Mr Tuckwell, who is more accustomed to interviewing senior executives.
"What we'll be telling them tonight is guys, just be yourself, because there's no magic formula to what we're looking for," he said.
"If you pitch yourself as one thing, but you're actually really somebody else, it's not going to work, you're going to fall away."
Mr Tuckwell said he was looking for "innate smartness" and for students who would ultimately use the opportunity to make a difference in the community.
"Certainly for the early years of the program both my wife and I want to be quite involved in it, because what we're trying to do is define how the program will operate, and obviously we're doing this hand-in-glove with the university," he said.
"My vision is, I want the kids who are going to build the soup kitchens and who are going to invent a new type of soup, rather than the kids who are just going to serve in the soup kitchens. In other words, they're going to make a monumental difference."
I want the kids who are going to build the soup kitchens and who are going to invent a new type of soup...In other words, they're going to make a monumental difference.

Graham Tuckwell
Both Mr Tuckwell and Professor Hughes-Warrington said there were some amazing stories among the applicants, including a student who studied violin by Skype, another who attended multiple campuses each week, and some students who had stoically endured through tragic circumstances.
Despite just 25 Tuckwell scholarship places open, Professor Hughes-Warrington said the ANU would encourage the others to apply for other grants or scholarships to come to the university.
"Reading the applications and then meeting them in person is going to be an incredible privilege, and my aim is to make sure as many of them come to ANU, because I tell you what, they are so special," she said.
Of the 72 students on the shortlist, 37 are female and 35 are male. There are four students from the ACT, 31 from NSW, 13 from Victoria, 11 from Queensland, five from Tasmania, three from the Northern Territory, and two each from Western and South Australia.
In addition to the interview process, the 70 students who have come to Canberra will stay in ANU halls of residence, get a taste of campus life, and be given a tour of the city.
The final recipients of the scholarships will be announced on July 12.