Tough new rules force schools to cancel swim days
ACT students will not be allowed to take part in school swimming activities until they pass an individual swimming competency test.
But the tough new safety provisions have forced around ten schools to cancel end-of-year pool fun days, and the Royal Life Saving Society will be calling on the ACT government to reconsider the policy because the swim test is too tough and could actually create a disincentive for students to take part in any swimming activities at school.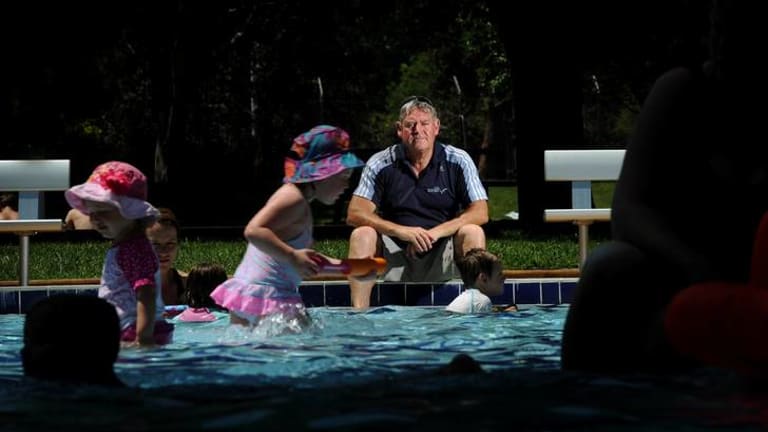 The School Swimming Carnivals Procedures and Checklist safety policy – issued this week – was a response to an incident in March when a Year 6 Forrest Primary student nearly drowned at the swimming carnival.
In July, an external investigation into the incident recommended the introduction of more precise measures to identify each student's swimming proficiency and called on schools to improve their communication with parents about carnival plans.
The ACT government's new policy now requires teachers to assess all students before they take part in any school swimming activity.
The test includes checking each student can enter the pool and walk for five metres, swim for 25 metres, float or tread water for one minute and call for help in that time, exit the pool unassisted and perform a voice rescue of another buddy, encouraging them to a point of safety.
Students who could complete these steps would be given a blue tag while those who couldn't would wear yellow tags.
Blue-tagged children required teacher supervision on a 20:1 ration while yellow-tagged children required 10:1 supervision.
But the ACT executive officer of the Royal Life Saving Society Sean Hodges said the swim test was taken from a 2008 society recommendation about improving safety for students during unstructured free swimming activities and was too onerous to enforce on swimming carnivals – which were overwhelmingly safe experiences.
A NSW student drowned at a school swimming carnival in 2008, but it was during free time in the pool. Similarly, the incident at Forrest Primary's carnival was during free time.
"I haven't been able to find on the record a drowning or near drowning as a result of a swimming carnival – apart from medically-related issues," Mr Hodges said.
"We think there is the basis for a good swimming safety policy in the ACT but this definitely needs work," he said.
Several Canberra schools had to take students in small groups to get their testing done ahead of carnivals and fun days.
"Our concern is the current policy is a little bit over the top and in its current form it puts the emphasis on teachers. The last thing we want is for schools to be cancelling their fun days because they are nervous," Mr Hodges said.
The Australian Education Union said it was always "mindful of increasing teacher workloads and increasing community expectations as to what teachers should do."
But union ACT branch secretary Glenn Fowler said the union also acknowledged "that child safety is a primary function of teaching and we want to contribute to safe learning environments, wherever they may be."
Teachers had already been conducting informal assessments of student swimming ability for some time, and were extremely vigilant during swimming events, Mr Fowler noted.
Mr Hodges said the society also had concerns about the test itself, which required students to tread water for a minute.
He said in many cases that was a more difficult task for new swimmers to master than swimming for 50 metres.
At least one parent reported his daughter did not want to attend her school fun day because she was anxious about the swimming test.
"We don't want to discourage kids from getting in the pool, in fact we want to encourage them to get involved in swimming," Mr Hodges said.
Dickson Pool Manager Shay Kennedy said he had lost three end-of-year swimming fun day bookings over the last three weeks because schools were concerned about complying with heightened regulation and responsibilities for student safety.
Mr Kennedy said that in 17 years of managing the pool there had been no serious safety issues during school visits and teachers "already do a fantastic job of ensuring safety in and around the pool".
Mr Kennedy said that while no swimming carnivals had been cancelled it was disappointing schools were cancelling their fun days – in which students developed swimming skills and enjoyed the pool experience.
Education Minister Joy Burch said she would be speaking with stakeholders in the coming weeks about how to bed the policy in.
"I know some pool operators have concerns about the policy and we want to talk to them about this...It is understandable that we want to ensure swimming carnivals can be the safest experience that we can offer."
Similarly, Ms Burch was aware of some schools pulling out of fun days and ways to avoid this would be "part of the conversation".
"School fun days at the pool are part of being an Australian," she said.
Morning & Afternoon Newsletter
Delivered Mon–Fri.