Trees face the axe despite poplar vote
Anger is boiling over in Braidwood where residents believe they're being snowed by government consultants over the fate of old poplar trees deemed dangerous because of road deaths and injuries.
Long-time residents want coast-bound motorists to slow down, rather than have the trees, planted in 1936, felled in their heritage-listed village.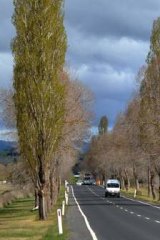 Public submissions on the trees' future close on Monday, but arborist Dennis Dempsey said a decision has already been made to axe them.
Roads and Maritime Services has taken cuttings of golden poplars to propagate new ones and plant them further away from the Kings Highway on the northern approach to Braidwood.
Mr Dempsey says RMS consultants are simply going through the motions and paying lip service to Braidwood people who treasure the poplars.
''The last meeting I went to, the more I think about it, the angrier I get.
''If a decision hasn't been made I'll eat my hat.
''The only thing that stands [in the way of] the trees being cut down is how much fight is left in the people of Braidwood, in my opinion.
''I'm absolutely upset over it. The two things the people asked for was, slow the speed and put up a wire rope fence.''
Neither had happened.
Letters to the Braidwood Times indicate community workshops on the issue have not quelled strong feelings in the village over the golden and Lombardy poplars that dominate the roadside treescape on the northern approach to the village.
One of the problems was a passing lane on the approach, which encouraged motorists to speed up the hill, according to a Braidwood resident.
''There's a race at the top of the hill, the trees don't jump out in front of them.''
She said the trees served a useful purpose in flagging the entrance to the village.
Between June 1, 2004, and May 31, 2011, there were 17 crashes on the highway near Braidwood, with five of these crashes resulting in death.
More than half of these accidents involved roadside objects, with all fatal crashes resulting from vehicles hitting trees, according to the traffic authority. Mr Dempsey said a speed limit was better than losing a beautiful avenue of trees.
''We appeal to the people who love that, it's not only us it is the people that drive through and love that country. It's a character you don't get in this area.''
His family had lived there since 1838, and he was one of many long-term residents who cared for the village's heritage setting.
''The trees are old. They say the trees are diseased. You could say that about me.
''I am 66, but I don't need to be taken out and shot or cut down or ground up for chicken feed.''
John Thistleton is a reporter for The Canberra Times.