Tributes flow after four-year-old Canberra cancer patient Annie McGuigan dies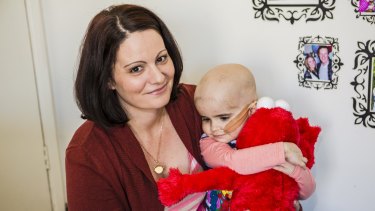 "Our beautiful daughter, our very own warrior princess, last night spread her wings and is finally soaring free.
"She will never again know pain, sickness or sorrow."
Mr McGuigan wrote Annie would be "forever four, forever loved and missed".
He posted a photograph of his smiling daughter wearing pink sunglasses, fairy wings and pearl necklace.
A quote on the image read: "She made broken look beautiful, and strong look invincible. She walked with the universe on her shoulders and made it look like a pair of wings."
The news prompted an outpouring of social media tributes and condolences from the Canberra community and across the world.
Little Annie endured multiple operations, more than 30 radiation treatments and 12 months of chemotherapy after she was diagnosed with a vicious brain tumour in March 2013.
Early last year, just when the McGuigans thought they were in the clear, they were told Annie's life-threatening cancer had returned.
An MRI scan later towards the end of the year revealed the disease had progressed rapidly and its spread was "extensive".
Doctors found more of the cancer on Annie's brain, as well as new spots on her spine.
They said the cancer was inoperable and Annie's low platelet count meant further treatments, such as chemotherapy, were no longer an option.
The McGuigans took to social media at the time to update their daughter's wide base of supporters on her condition, but said ultimately "there are no words".

Mr McGuigan said the situation was "torture".
"Having to watch your child deteriorate and suffer and not being able to do anything is an indescribable pain.
"Knowing what the end result will be is beyond heartbreaking."
He said the only comfort was that his daughter would no longer be in pain, no longer have to fight, and no longer have to suffer when she died.
"Until that time comes I will cherish every moment with my princess."
Megan Gorrey is the Urban Affairs reporter at the Sydney Morning Herald.