Tributes for Birdman Rally winner George Reekie, one of Canberra's great characters
George Reekie, a past winner of the Birdman Rally in Canberra and persistent competitor in the event, has died aged just 50.
While he grew up in Bathurst, Mr Reekie could claim to be one of Canberra's great characters, putting his heart and soul into winning the rally over several years.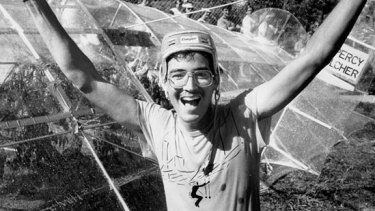 His family and friends plan to hold a small ceremony in his honour beside Lake Burley Griffin – the scene of his 1991 Birdman victory – on Sunday from noon, meeting near the globe at Regatta Point.
Mr Reekie died in Worcester, Massachusetts, on July 30 after contracting an infection in hospital.
He had moved to the United States using the $20,000 prize money from his Birdman victory in 1991, when he flew a fibreglass and foam glider 50 metres over Lake Burley Griffin.
It was a record-breaking distance and validation for Mr Reekie and his father, Colin, who had entered the previous six rallies before taking out the big prize. He also took out the final rally, in 1992, winning a car, which he gave to his mum.
Mr Reekie started his own engineering firm in Newton, Massachusetts, also meeting his wife Keelin, an architect, in the US. The couple settled in Rhode Island and had two daughters, McKaela, now 10, and Shealyn, nine.
The Birdman Rally was one of the quirkier parts of Canberra's history, the perfect antidote to the stereotype that the national capital was stuffy, boring and only about politics.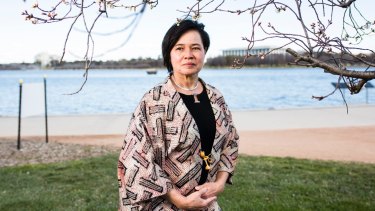 Held by local TV station Capital 7 from 1985 to 1992, the rally attracted thousands of people to Regatta Point on the lake's shores to watch competitors hurl themselves off a six-metre-high platform in home-made craft, trying to make the longest distance across the water.
Capital 7 broadcast the event and then aired a one-hour highlights program, such was the appeal of the rally.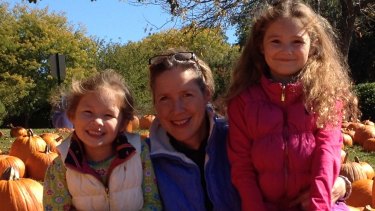 Some entrants competed with no hope of getting far – like the bloke who tried to fly a cardboard Volkswagon bug. And another made his craft from 42 beer cartons.
Commentators quipped about the plunging craft, saying: "He went down quicker than John Howard's popularity."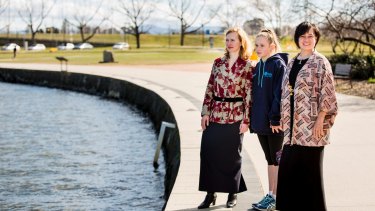 "I feel the world is missing out. He was just a genius with design, the things he could do."

Canberra woman Ann Johnstone on her industrial designer brother, the late George Reekie.
But others, like Mr Reekie, were determined to build a craft that could really fly.
His sister Ann Johnstone, who lives in Curtin, remembers her brother and father spending hours in the shed at their Bathurst home perfecting the design of their Birdman entry and then testing repeatedly down a nearby hill.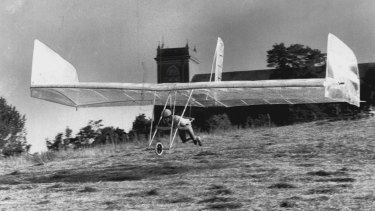 "My job was to hold the wing tips and, as it landed, to make sure the plane didn't get damaged. We didn't worry too much about George, it was the plane that was so fragile," she said.
Family friend Jeannie Robertson said Mr Reekie was a man who loved and embraced life.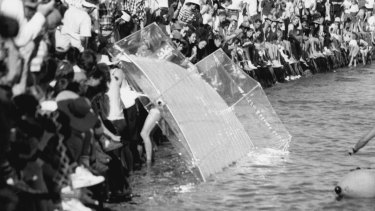 "He had the exuberance of youth when he went in the rallies. He believed he could do anything," she said.
Mr Reekie was a keen sailor – owning a yacht appropriately called Whirlwind – as well as musician and cook.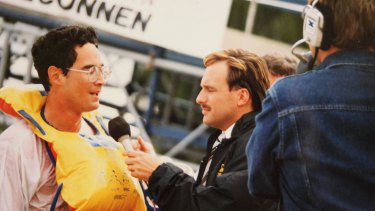 He was a successful industrial designer, having been granted numerous patents from the US Patent Office such as the Black & Decker weed wacker.
He was the engineer behind the creation of large bronze models of the world and moon at the Museum of Natural History in New York. He was also known as a design troubleshooter, brought in by big companies to solve problems. He worked for companies from Cross Pens to New England Ropes.
Mrs Johnstone said the Birdman Rally gave her brother the confidence to launch into his career in the US.
"I feel the world is missing out," she said. "He was just a genius with design, the things he could do."
More than anything, he loved his family and his friends.
"He was the life of the party and had friends all over the world, yet it wasn't uncommon for this hard-living Australian to shed a tear while watching a sad movie with his girls, or pick a flower from the Japanese garden that his mother designed," a tribute to him read.
His wife Keelin said her husband would live on through their girls. "McKaela is the intellectual one – she is really smart and creative and loves figuring out how things work. Shealyn is the fun-loving party girl, really friendly and outgoing," she said. "So, between them, they are all aspects of George."
Mr Reekie is survived by his parents Colin and Fudeko, his siblings John and Ann, and his extended family in Japan, England and Scotland.
A video of the Birdman Rally can be found here.
Megan Doherty is a reporter for The Canberra Times