Union lashes plan to remove firefighters from ACT's emergency call centre
The firefighting union has lashed out at plans to overhaul Canberra's triple-0 call centre next year, saying it had "no confidence" in the ACT government's plan to replace firefighters who manned the phones with civilians.
Significant changes have been proposed for the ACT Emergency Services Agency's communications centre, or ComCen, in response to recommendations firefighters should be swapped for trained call takers under a major restructure.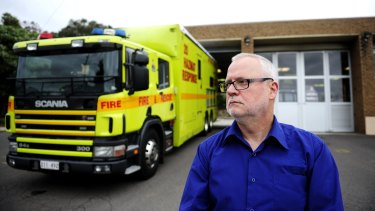 Emergency Services Minister Simon Corbell confirmed on Tuesday that transition would go ahead in July 2017 in a move he said would return up to a dozen firefighters to the frontline.
Firefighters currently answer emergency calls for ACT Fire and Rescue alongside trained civilian ambulance call takers at the ESA's Fairbairn headquarters.
ESA Commissioner Dominic Lane has supported plans to overhaul the centre as a key element of the agency's strategic reform agenda, which aims to slash duplication across the three emergency services.
The proposal has been strongly opposed by the United Firefighters Union ACT, which has argued professional firefighters were needed in the centre to make complex operational decisions and manage a range of firefighting resources.
UFU ACT branch secretary Greg McConville said the union had been "quite taken aback" by the announcement and angered by a lack of consultation with ComCen operators over the plan, which he understood involved one firefighter overseeing calls in the centre per shift.
"We thought we'd secured an agreement where we would sit down and discuss the detail of how ComCen would work before a model was decided upon.
"We've been pressuring them for months that rather than have a wishlist of what it might look like, we needed a nuts and bolts discussion of what worked well and what might not work.
"We have no confidence at all in what is proposed."
Other jurisdictions that had shifted to a civilian call taker model had invested heavily in command vehicles, but there had been no suggestion that would happen in the ACT, Mr McConville said.
"What our ComCen firefighters do is much more complex than receiving a call and sending an appliance; they act as an incident controller until an appliance arrives."
But Mr Lane said the vast majority of triple-0 calls fielded by the communications centre didn't require a judgement call and key operational decisions were made at the fire scene by a senior station officer or commander.
He said the agency would have capacity to "scale up" the call centre's capabilities with extra employees in the event of major emergencies.
Mr Corbell said there would be 12 months of consultation with the unions before any changes were made.
He said civilian call-takers were used successfully for the ACT Ambulance Service and ACT Policing, and he believed the same would work for ACT Fire and Rescue.
"I understand this is a matter of concern for the UFU and that's why we've committed over the next 12 months to a detailed consultation process before any changes are implemented."
"The bottom line for the government and I think for the community is that they would like to see their highly trained, very experienced and capable firefighters in fire trucks responding to fire and rescue calls."
Mr Corbell said about 12 firefighters would be put on the road. He said there were another 12 firefighters in the ComCen who could not return to the road, due to issues such as injury, but they would be accommodated.
"We want to see more uniformed, highly-trained firefighters on the road, in fire trucks responding to fire and rescue calls, rather than taking telephone calls," he said.
"We know it works for police, we know it works for ambulance and we're confident it can work for fire as well."
Megan Gorrey is the Urban Affairs reporter at the Sydney Morning Herald.