Val Jeffrey to replace Brendan Smyth in ACT Liberals after Andrew Barr creates void
Val Jeffreywill replace Brendan Smyth in the ACT Legislative Assembly, but Opposition Leader Jeremy Hanson faces one more hurdle before the 81-year-old steps from behind his shop counter at Tharwa.
Someone has to sort the mail each morning at Tharwa Store, on the western side of the Murrumbidgee River.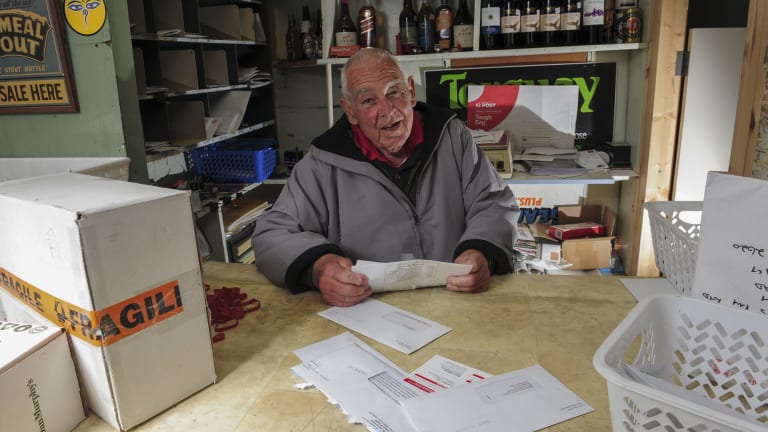 It's the best part of Mr Jeffrey's day, bundling up letters for roadside mail boxes on the way to Tidbinbilla, Naas, and all the other outposts in the Brindabella foothills.
Mr Smyth left the vacancy when he become the new commissioner for international engagement on Friday. Chief Minister Andrew Barr made the $300,000-a-year appointment, plucking the Liberal Treasury spokesman from his main political rivals only three months before the October elections.
The lightning appointment caught many off guard, including Mr Jeffrey, the last Liberal standing in a countback from the 2012 election. The village stalwart was reluctant to step up until he realised it would be only for a few months.
"As far as I know, at this point in time, I will," Mr Jeffrey said on Sunday. He had previously represented the Community Alliance Party, until switching to the Liberals for the 2012 poll. "I have been a member of the Libs for years and years and years," he said on Sunday.
Mr Jeffrey said for much of his life he had watched governments withdraw support for the general community.
"Once we got self-government, I noticed a big difference in the management of the ACT under the federal sphere," he said. "I was so disappointed with the quality of management. I'm afraid it hasn't improved at all. Little things, like Tharwa here has been completely neglected ever since we had self-government.
"Whereas before that, you could get in touch with the federal member and something would be done."
Mr Jeffrey is in his shop at 7am and remains there until 5.30pm in winter and 6pm in summer.
"I am doing seven days a week, it is the post office here that keeps me going," he said. "With so many parcels, the community needs the post office to pick up parcels and stuff like that as well."
Mr Jeffrey's decision avoids the vacancy left by Mr Smyth, the Liberals most experienced member, being filled by someone from the Greens, Labor, minor party or an independent.
John Thistleton is a reporter for The Canberra Times.