Vets dog gone to that other Utopia
Ernie the radiantly healthy young golden retriever lives in a kind of utopia. He is loved and pampered and has a doting veterinary surgeon, Louise Nicholls, for an owner. But he is soon going to have to do without Nicholls for a few days as she goes to not-very-utopian Utopia in Central Australia to look after unfortunate dogs that have few of his, Ernie's, advantages in life.
A small team of Canberra vets and nurses (they call themselves the Canberra Mob) will descend on Utopia for an intensive spell of work.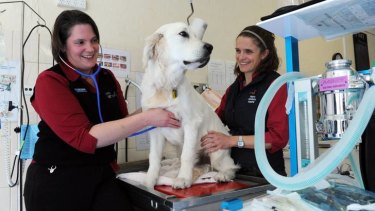 This will be Nicholls' first visit but vet Alison Taylor, a colleague of Nicholls' at the Kippax Veterinary Hospital, has made two visits to Utopia 240 kilometres north-east of Alice Springs. There is a superabundance of dogs there.
''The dogs are very important to them [the Aboriginal people of Utopia]. In some areas there might even be dog dreaming and so a dog may be a totem for that particular group of people. But their dogs have also been important to them in hunting. And for companionship. In particular they [dogs] will keep them warm in winter. And with dogs around they feel safer, and protected. But they probably don't want by design so very many dogs. It's just out-of-control breeding.
''So there are lots of different problems. There are dog bites. There are so many dogs and they're not very well trained and so you'll get adults and children bitten.
''Then when the dogs are on heat there's a lot of rabble going on at night and people can't sleep because there's so much barking and fighting going on all night. So the main things we're doing are population control. We do lots of desexing [and very little euthanasing]. And we also do treatment for parasites.''
On the last visit they did 185 desexings but euthanased just six.
There are lots of cultural sensitivities, she explains. On her first visit they arrived almost unannounced and there was a widespread fear among people that their dogs being taken away (for Utopia is spreadeagled and the dogs have to be gathered up and brought back to the central spot by truck) would never be brought back again.
Taylor loves this work. ''It's a way I can professionally contribute something to solving a problem. We can all give money to things but you're not sure that's going to make any difference. But just in the two trips I've made to Utopia you could see, coming back the second time, how much better things were, just from our having been there once. That's really exciting. You see them [the dogs] first looking so terrible, looking so sick with scabies everywhere. And the next time you go back you can find the same dog and it's so different, so healthy-looking. You see it with this lovely group of women and children. That's heartwarming.''
Nicholls said: ''I'm not quite sure what to expect but I'm really looking forward to it, to be able to put your skills to some good use, to look after people and animals that otherwise don't get any care from a vet.''
''It's an adventure but it's an exhausting adventure,'' Taylor says.
''You realise [afterwards, when you've time to reflect] you've worked 12-hour days for six days straight.''
There are considerable expenses (especially drugs and other medical supplies) associated with these altruistic pilgrimages and so a forthcoming fund-raiser, endorsed by the silken and altruistic Ernie (this columnist met him yesterday and was completely smitten), is very important to the success of the next pilgrimage. It is the Utopia Cocktail Party (silent auction, lucky dip and door prizes) at the Siren Bar and Restaurant at Gungahlin on Saturday, July 28, at 7pm. Tickets are $70 and are available from the Kippax Vet Hospital, 6255 1242.