Walrus calls it a wrap on street art
Lots of Canberrans (many with philistine genes) whinge about big, expensive, permanent works of public art, but Canberra street artist Chris Dalzell says he's known nothing but genial appreciation of his dainty, ephemeral works now decorating nooks and crannies of Civic.
Dalzell, 25, (his street artist nickname is ''Walrus'') takes sheets of pallet wrap (imagine very large sheets of Glad Wrap) and attaches them to juxtaposed poles in much the same way that a spider arranges its web in spaces between two branches or twigs. ''I find two poles close together and then create my [clear, plastic] wall.''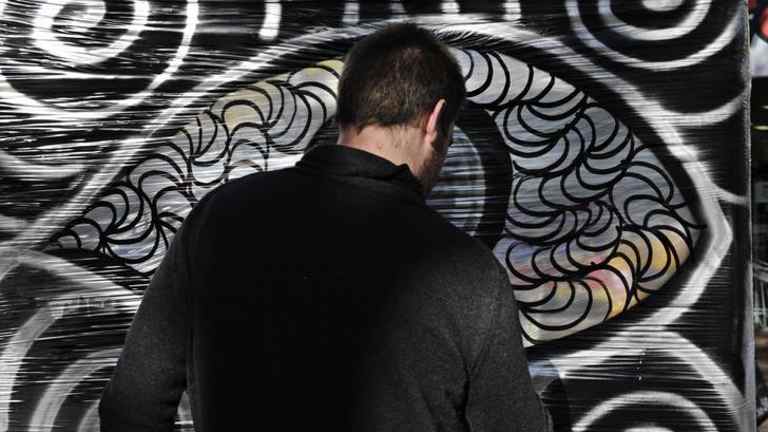 And the spiders' web analogy is a good description of his works' good looks, too, because the light shines attractively through them, enhancing them, the way light shines through frosty and dewy spiders' webs.
The Canberra Times photographer Jay Cronan was in Garema Place on different business, but saw the artist and his transparent works and was duly beguiled.
Having put up the see-through ''wall'' of pallet wrap (Dalzell has worked as a removalist and became familiar with that unorthodox art material then) he then paints on it in black and silver ''so that the sun can shine through it and cast shadows [of the painted designs] on the ground''.
Walrus says: ''I put up the walls where there'll be lots of pedestrian traffic. It puts something different in people's days. A lot of people come up and talk to me about them.''
He uses the painted image of the eye a lot because of ''a kind of crazy idea'' he says he has about ''pure consciousness'' and of appreciating the world ''without our bodies, drawn into a higher plain''. But he's quite cheerful about people simply getting a little delight out of them without reading anything into them.
The fact that, again like spiders' webs, they don't last very long (chaps from Urban Services usually take them away after a couple of days) doesn't upset him at all.
''I like them to be a bit temporary.''
And before he began using pallet wrap he painted on sheets of white chipboard and liked the way that people who liked them would take them away with a kind of harmless theft.
Let's be kind to our Walruses, our street artists. Every real city needs them.
The exhibition is called Hung and it opens on August 2 at the Soju Girl restaurant bar in the Melbourne Building in Civic.