Warnings about RSPCA ignored, say staff
Workers at Canberra's RSPCA say they tried to alert the charity's governing council and the ACT government to alleged problems at the group's Weston Creek compound as long ago as 2010.
But one would-be whistleblower said her claims about over-worked and demoralised staff, animal treatment and management style were ignored.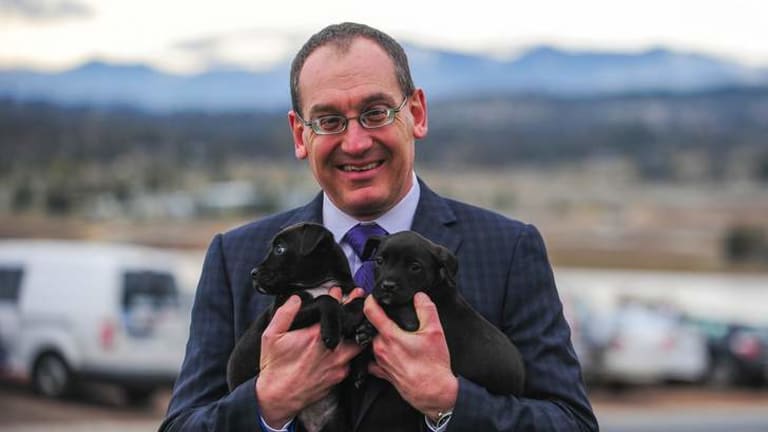 The charity's chief executive, Michael Linke, resigned on Monday and flew to New York on holiday.
His resignation comes amid two investigations at the ACT RSPCA into complaints by workers about underpayment, staff welfare and management style.
Nine workers at the Weston Creek headquarters - about a sixth of RSPCA ACT's employees - have taken grievances to their union, United Voice, a move that forced the charity's governing board to call in investigators.
Mr Linke, who was in transit to New York on Tuesday, has not responded to repeated requests for an interview.
However, he took to the airwaves on Tuesday morning to defend his legacy and blamed the RSPCA's alleged problems on a "small number of disgruntled staff".
Animal welfare executive manager Glenn Howie remains suspended and under investigation after publicly accusing Mr Linke of animal cruelty for concreting over rabbit holes on RSPCA land in August, and challenging the chief executive over other workplace issues.
But an ACT government inspection last month found there was no cruelty when the rabbit holes were filled in with concrete slurry.
A former supervisor at the compound's wildlife clinic, Carly Wilson says she and "a bunch" of other staff wrote to the nine-member governing council in 2010 to complain about workplace problems and the methods used to care for wild animals brought to the shelter.
"We were working 12, sometimes 15 hours a day, we never finished on time, and then were only getting paid for 7½ hours," Ms Wilson alleged.
"We were told to take home the after-hours phone and we were forced to take animals home with us."
Ms Wilson said after she and her colleagues received no response from the council she took her concerns to a senior bureaucrat in the Department of Territory and Municipal Services, outlining her concerns in a lengthy conversation.
"That was just ignored too," Ms Wilson said.
A former volunteer worker, who asked not to be named, said she was dismissed from her position in the troubled wildlife unit after she spoke out about welfare practices she believed were wrong.
But a spokesman for the Municipal Services Department said it had no record of a complaint other than the rabbit warren matter.
RSPCA council spokeswoman Kasy Chambers did not respond to questions before deadline.
During his interview on ABC Radio on Tuesday morning, Mr Linke said he did not understand the controversy. "I don't understand this," he said. "It just smacks of a couple of disgruntled employees trying to damage an organisation that is founded in saving animals."
RSPCA ACT's new chief executive George Costi came to the defence of his predecessor on Tuesday, saying Mr Linke's legacy would be an outstanding record in the animal welfare field.
Mr Linke had overseen one of the highest adoption or live release figures in Australia, Mr Costi said.