Water rats play a chilling role
FOR seven cold, desperate days police divers scoured the depths of Lake Burley Griffin looking for a kayaker who vanished one winter afternoon.
Personal trainer Peter Morrison, 30, described as a fit and able swimmer, was separated from his girlfriend in blustery conditions while on a paddle from Springbank Island to Black Mountain Peninsula in August 2009.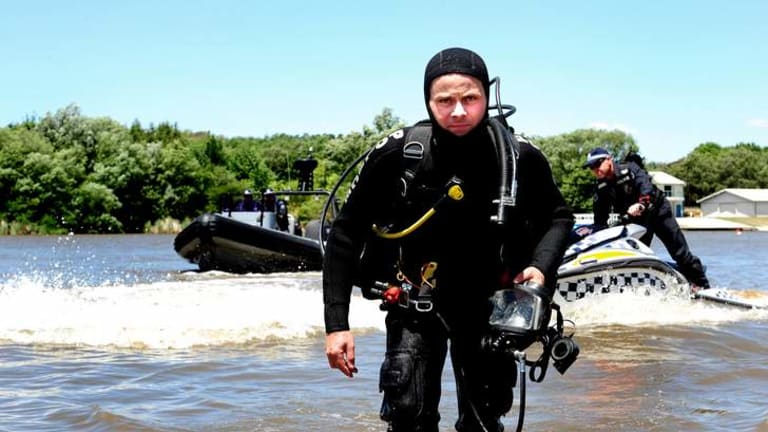 He was not wearing a life jacket, and was caught in choppy conditions, possibly clinging to his overturned kayak while waiting for help.
At some point, Mr Morrison succumbed to the cold, the wind and the wet. He drowned in waters less than two metres deep.
It was a death that reminded the city of the dangers that the seemingly benign waters of the lake can pose.
And it was an operation that served as a reminder of the importance of the Australian Federal Police's Canberra-based water rats.
The grim task of retrieving bodies from the ACT's waterways is just one of the many vital roles the water police play.
''It's never a nice part of the job, [but] it is a part of the job, it does help bring closure to both investigations and to families who have lost loved ones,'' Senior Constable Scott Sindel said.
''It's not a job for everyone, but we've got a pretty good team, and everyone's capable of doing it.''
But the work is not always so bleak for the water police.
About 18 months ago, a party boat floating on Lake Burley Griffin struck a submerged object and became stuck.
The team dutifully responded, boarding the vessel to find a hen's party and a crowd of women perhaps a little too eager to welcome them aboard.
''A few of the guys went to help escort all the ladies off the boat and on to the shore,'' Senior Constable Sindel said.
''It was quite funny. Everyone thought the strippers were arriving. I think they were actually quite disappointed when they realised who it was.''
It may seem strange to employ a team of water police, equipped with jet skis, a fleet of boats and a group of highly trained divers, in a landlocked territory, yet many Canberrans would not realise the extent of the team's workload.
They routinely search for evidence from Canberra's lakes, ponds and rivers, dumped following often serious crimes.
That's made all the more difficult in the ACT's main body of water, Lake Burley Griffin, which is extremely difficult to search.
Water temperatures can be painfully cold, visibility is atrocious, and the lake's sediment and mud are easily stirred.
Water police also perform dangerous swift rescues, plucking those in distress from fast-moving water, often from the city's network of drains.
Senior Constable Sindel said that while those daring rescues were not overly common, more people were placing themselves in unnecessarily dangerous situations.
Performing rescues in such treacherous waters requires months of dedicated training.
''We've got guys who are trained in entering floodwaters, it's somewhat dangerous moving water through narrow areas, there's a lot of debris and underwater obstructions, so it's quite a lengthy training process,'' Senior Constable Sindel said.
''Utilising ropes, the normal roping techniques, and we also use rafts and other flotation devices to safely enter the water and rescue and recover people who are trapped.''
The team conducts regular general patrols through the waterways and ensure a visible police presence during major events such as Skyfire, New Year festivities and major visits by VIPs.
They also respond to incidents at the main catchment dams - Corin, Cotter and Bendora.
The water operations team was included as part of the new policing super group, the Specialist Response Group, formed by the Australian Federal Police this year. That has doubled numbers and increased the team's responsibilities.
They are equipped with two larger patrol vessels, a large inflatable boat for tactical operations and three jet skis.
They are primarily based in Canberra, but support operations overseas, and in areas such as Christmas Island and Jervis Bay.
Maritime team members can go through years of training just to obtain the basic skills required.
That can include obtaining a coxswain licence, and specialised training in swift water rescue, jet ski operation, diving, rescue boat driving, tactical boat driving, and rescue swimming.
Morning & Afternoon Newsletter
Delivered Mon–Fri.