'We have to fight this': Downer residents fear high-density takeover
Downer would be swamped with high-density housing under an ACT government planning strategy which  "unreasonably" targets the inner-north suburb, a public meeting has heard.
More than 100 residents packed a Downer Community Association meeting on Monday night amid growing fears the government's new urban infill offensive could dramatically reshape their leafy neighbourhood.
Some locals were forced to sit on the floor as the crowd spilt out of Downer Community Centre during the hour-long meeting, which the association convened to gauge community views on the strategy ahead of a scheduled meeting with planning minister Mick Gentleman on Wednesday.
The association resolved to start developing an alternative Downer masterplan to pitch to the government, focused on modest infill and upgrades to parks, playgrounds and other "social infrastructure".
The government's strategy, released in December, seeks to accelerate housing in so-called "urban intensification localities" - sections of suburbs within walking distance of the light rail and town and group centres - in a bid to accommodate Canberra's growing population without sprawling further into the regions.
The plan calls for the construction of 12 homes a day to accommodate a projected population of 589,000 by 2041, with 70 per cent of those dwellings to be built in urban areas.
The push will have particular ramifications for Downer, which has not yet experienced the scale of new development apparent in neighbouring Braddon and Dickson.
The suburb is zoned predominantly for one and two-storey housing, except for blocks fronting Antill Street and the old primary school site, where work will soon start on a new 300-home housing estate.
A map published in the government's strategy appears to include more than three quarters of Downer in the "urban intensification" zone.  It is unclear what zoning changes might result from the move.
Downer Community Association chair Miles Boak told the meeting that it was "unreasonable" that the majority of the suburb had been targeted in the strategy.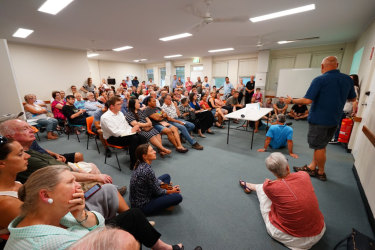 One resident agreed, saying the urban infill push was unfair on people who had bought into the suburb "expecting a certain lifestyle".
"An incredible stress will be brought into people's lives with the fear of huge, inappropriate developments next to your place, and people knocking on your door asking you sell [your property]," he said.
"It does make a huge difference. It will rip the guts out of your piece of mind and that's why we have so many people here tonight."
The government's city-wide planning strategy dovetails with the new City and Gateway Framework, which seeks to rezone land along Northbourne Avenue and Federal Highway to accommodate 37,000 new homes.
Under the proposal, buildings of up to 18 metres would be allowed on Downer's stretch of Northbourne Avenue, between Antill Street and the Federal Highway.
At Monday's meeting, one resident said the wider Canberra community had to push back against the government and the "claims it makes about the virtues and the need for high density".
"We have to really be taking the fight up to the government on this," he said. "We will be left with rubbish (development) if we just accept this."
"In order to avoid this NIMBY issue, we have to do this on a Canberra-wide basis. We are not just speaking for Downer, because there will be another suburb in the firing line very shortly after."
After the meeting, Mr Boak told The Canberra Times that the association, in consultation with the community, would start developing its own Downer masterplan to present to the government.
"Our plan will be more balanced, not just high-density housing," Mr Boak said.
"The community wants upgrades to social infrastructure, like bike paths, footpaths, parks and playgrounds."
Planning Minister Mick Gentleman has been contacted for comment.
Dan Jervis-Bardy is a Canberra Times reporter.