If you thought the outsourcing of Floriade to an external events company meant a team of Sydney or Melbournites flying in and overhauling the iconic Canberra event, you were wrong.
For the first time in its 31-year history, the capital's beloved flower show is being managed by an external events company, with Visabel winning the $150,000 job of producing this year's event.
But there are no out-of-towners in sight: Visabel is owned by "born and bred Canberran" Vickii Cotter.
Cotter's event management experience includes working on Vivid Sydney, Byron Bay's Bluesfest and two years with the Canberra Writers' Festival, but Floriade is her new baby and she's "loving every second".
So much so that she squealed with delight during a meeting on Monday when she received a text message containing photos of the first planter beds being installed.
"I'm very excited and very proud [to be producing Floriade] - it's one of Australia's largest and most celebrated events," Cotter said.
"It's been a busy few weeks but the excitement is starting to gear up and it's amazing to see it coming to life."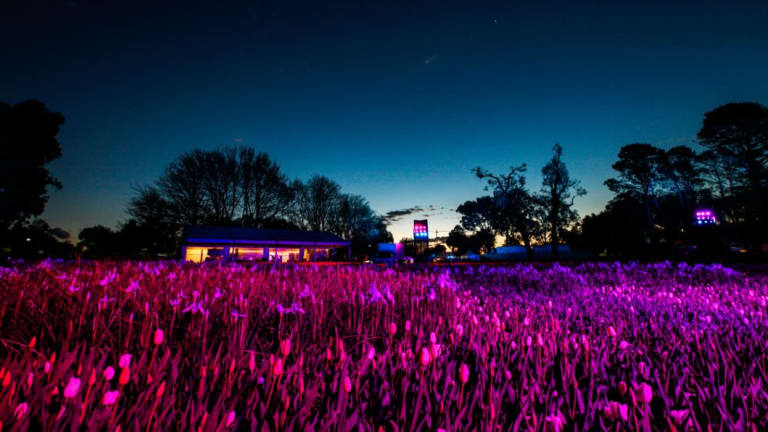 More than 400,000 visitors - including domestic and international tourists, and Canberrans - are expected to head to Commonwealth Park in just a few short weeks for the annual flower festival, which suffered a major budget blowout last year and a mass exodus of Events ACT staff.
Visabel was signed on to deliver Floriade on behalf of Events ACT, after delivering a successful Enlighten festival earlier in 2018.
Cotter said Visabel had been working hard to invigorate Floriade and attract a new audience for the festival, including giving the flower show a pop culture theme and extending the hugely popular Nightfest - held at Stage 88 - from three nights to five.
The program also includes small injections of Cotter's work on previous events, like the Let's Talk author talks, Jazz in the Park and the option for visitors to enjoy high tea overlooking the blooms, thanks to a new partnership with Pialligo Estate.
The main vista, on view as you enter the festival gates, will be less about lifeless flower beds and more about performers, shopping, coffee and "general energy".
"We're bringing the main vista village to life," Cotter said.
"We'll have market traders, music - so you'll be able to sit down and enjoy the ambience of the space.
"We want people to feel like they've entered a whole other world when they come to Floriade."
For more information and the full program head to www.floriadeaustralia.com
Bree Element is the life and entertainment editor at The Canberra Times