Weather man back at work after wipeout
The forecast seemed pretty gloomy for Sean Carson at the start of February.
Out surfing a remote reef break on the south coast near Pebbly Beach, the meteorologist Canberrans are more accustomed to hearing on the airwaves and reading in news pages went for the wrong type of wave.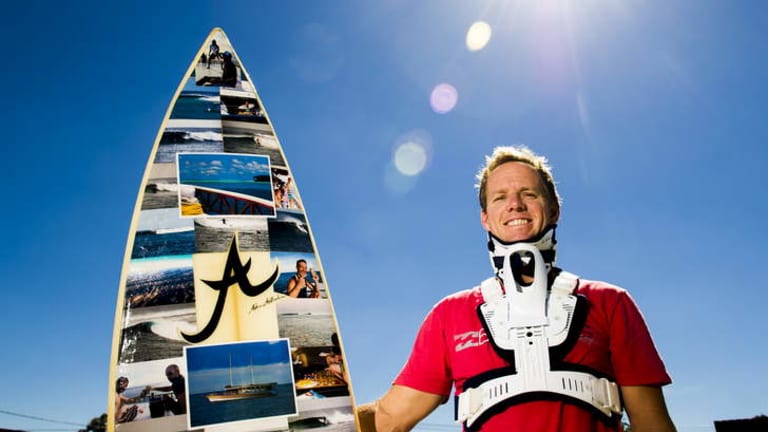 "It was just a tricky day, there was a fair bit of wind and spray in the air, so I just got a bit disorientated and pretty frustrated because I wasn't catching any waves," Mr Carson said.
"I started for a wave that I shouldn't have; it was way too close to the rocks.
"As I'm looking down the wave there was just nowhere to go, there was nothing but rock ledge and the water was about a foot deep."
He hit the rocks on the apex of his head, and knew he was in trouble.
"I thought I was gone. The first thought that came into my head was 'you're an idiot, father of three young kids and you've just put yourself in a wheelchair for life'," he said.
After four nervous days in a hospital bed, the clouds over his future cleared - he was released with a fractured vertebrae, in a full neck brace, but with complete use of all his limbs.
"All I can really say is that I know I'm just so lucky,'' he said.
Mr Carson's neck may have been broken, but his passion for surfing was not. He spent a large portion of his "uncomfortable" two-month recovery at home working on photos and videos from surf trips, including fibreglassing a photo collage onto one of his old surfboards.
Without the drawcard of checking the surf report, Mr Carson said he took a break from avidly watching the weather, but on Tuesday he returned to his job keeping an eye on Canberra's and Australia's skies, albeit working reduced hours and largely operating from home.
"I enjoyed it, actually. It's given me a bit more of a positive frame of mind," he said. "I feel like I'm going forwards, not backwards."
He has returned to a relatively new role - he'd only just started when the surf accident happened - assisting with forecasting conditions around significant national events such as floods and fires, while also watching over Canberra's weather.
He hopes to be back to full time by early next month, but says that will depend on the rehabilitation needed when the neck brace comes off. Will he surf again? "Definitely," he said.
Morning & Afternoon Newsletter
Delivered Mon–Fri.