Weston Creek residents report discoloured water since Sunday
Residents in Weston Creek have reported discoloured water when they turn on their taps on Sunday night.
Fairfax Media understands the discoloured water is present in Wright, Duffy, Holder and Weston.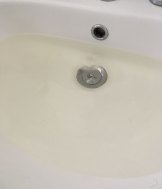 Icon Water said it was alerted to the incident about 4:30pm. It said crews were still trying to work what the cause of the discoloured water on Monday morning.
Holder resident Katrina, who asked not to use her full name, is concerned about the lack of information Icon Water is supplying.
She first noticed the discoloured water when she drew a bath for her 20-month-old just after 6pm.
"We just noticed the water was brown so we drained it and logged onto the Icon Water website to see if there's anything about why the water was brown," she said.
"There was nothing."
Katrina said she called the water company who told her it was responding to a number of reports in the Weston Creek area and a burst water main could be the cause.
A damaged water main was identified as the cause of discoloured water and a foul smell in the Gungahlin area last week.
She said she called Icon Water on Monday morning to check for an update and it was unable to given her an estimated time of when water would return to normal or the cause.
"I don't understand how it's not standard policy for them to just issue something as an alert, like fine you don't have any information, that's fine but at least flag that this is happening and that they're investigating," she said.
"...until they can confirm it's a burst water main, they don't know what the problem is and people have the right to know what's going on and what they should or shouldn't be doing with their water.
"We shouldn't be having to call them up to ask that information when they can easily make that known on their website.
Katrina said she let the water run and the colour had slowly diluted, 15 hours since she first noticed it.
Icon Water advises residents to not drink discoloured water.
According to its their website, the change in water colour could be a result of a number of changes in the system such as remedial work on the distribution system to optimise the water supply, accidents, interference by third parties or changes in water usage patterns.
"Whatever the reason, the change in colour normally occurs when the natural sediment is disturbed within the pipes causing the water to take on a brown or redish colour," it said.
"It is not recommended that you drink the water, especially if it appears, tastes or smells objectionable and it is not advisable to use household appliances such as your washing machine or dishwashers at this time due to possible staining or discolouration of clothes."
Han Nguyen reports on property for The Canberra Times. She joined the Times in 2017 after working as a breaking news reporter at The Sydney Morning Herald.