I'm an IT professional, experienced in databases, security, and government systems. I value privacy greatly. I opted out of My Health Record.
(1) No IT system guarantees 100 per cent security. My Health Record integrates multiple systems and provides multiple access points: patients, doctors, pharmacists, specialists, hospitals, etc.
System security is only as strong as the weakest link. Health records are gold to hackers; they're key to identity fraud.
(2) My Health Record inter-connects with multiple IT systems for identity verification. I've seen no guarantee these databases won't be correlated for other uses.
(3) My Health Record can be accessed by various government agencies, based on suspicion, to: detect or prevent crime, ensure "the protection of the public revenue", and more.
Currently, doctors can demand a warrant before providing health records; not so with My Health Record.
(4) My Health Record "contains an online summary of a patient's key health information; not a complete record of their clinical history". [Office of the Australian Information Commissioner and MyHealthRecord.gov.au ] As a result, My Health Record is not a clinically reliable health record; it wasn't designed to be.
This critically important caveat is not how the government is advocating My Health Record.
Moreover, the opt-out policy implies more importance, integrity, and completeness in My Health Record than exists.
I have no use for My Health Record now or in my foreseeable future. I'm comfortable to have opted out.
Judy Bamberger, O'Connor
Moving forward
Pauline Westwood has reflected on NAIDOC Week (The Canberra Times, July 16) and reminded us of the sorry history of the Indigenous peoples of Australia since white settlement, but she did not propose any actions.
It is frustrating and sad the Turnbull government too readily dismissed the Uluru Statement.
Paternalism, although in some cases well-intentioned, has failed. We have a longstanding national crisis.
The issues are many and complex but there does not appear to be an agreed process to resolve them, with goodwill, mutual respect and a commitment to essential healing.
The process has to be beyond politics and the political parties.
The only person beyond politics to bring the parties together is the Governor-General (or his nominee agreed to by the parties), actively involved as the chair of the negotiating group, with equal numbers of Indigenous and non-Indigenous members.
The parties need to agree to a strong honest agenda, to listen and learn from each other and negotiate.
This has to be in good faith, frank and robust, stressing the active involvement of local Indigenous communities.
Recognition and reconciliation must be on the agenda. Various options should be pursued without assuming at the outset that the best way involves a change to the constitution.
An eventual "treaty" may or may not be the best outcome, although agreements would have to be formalised somehow.
A useful start would be to accept Noel Pearson's basic premise in his "Declaration of Australia and the Australian People": To bring together our Indigenous heritage, our British inheritance (including the structures of government and society transported from the UK) and our multicultural achievements.
Warwick Williams, Nicholls
Light rail falls behind
The ACT government which has long relied on Professor Peter Newman's prognostications and boosterism to sell the fancy of the tram (e.g. "Light rail will change city, be good economic policy", Times2, June 3, 2015, p5) must be aghast with his advocacy of cheaper and better technology on ABC's Science Show (July 14).
Newman enthused: "The trackless-tram ... follows sensors in the road just painted on, and can do everything a fast tram can do ... carrying 300 people at 70km/h ... doing the work of a light rail system, that sometimes like in Sydney's case, cost $120m/km, we think can be done for $5m/km ..."
Yes, Professor, in Canberra's case too.
When questioned by presenter Robyn Williams: "Are you implying that the system in Sydney which has dug up the roads ... is out of date, unnecessary?", Newman equivocates: "... these rubber wheels on roads can be put in overnight; that does have an appeal. You don't dig up a street and destroy the economy in that street for four years."
Welcome to the 21st-century, Peter Newman.
Given more time, Newman may have touted another advantage of rubber-wheeled "trackless-trams": over 60,000 tons of CO2-equivalent greenhouse gases created by Stage One's construction will never be recovered given the imminent transition of transport to electric power.
Kent Fitch, Nicholls
Fiddling our tax
I am sure that the average punter has long been aware that Australians over-claim work expenses and other deductions when lodging their tax returns.
This is the one and the same person giving in to the annual temptation of raiding the cookie jar to the detriment of billions of dollars that fund health care and other public services.
End of financial year TV advertisements for car and business goods sales loudly proclaim to all and sundry the start of rorting season, a community-sanctioned yearly event where we greedily recoup the Australian Tax Office's unfair and exorbitant gouging of our hard-earnt money.
What is stolen in small amounts by every entitled worker who plays fast and loose with workplace deductions adds up to a mountain of losses that crushes the already eroded base of social services that underpin ongoing welfare support for the disabled, chronically sick and the disadvantaged.
Inflation of personal claims to directly feather our family nest egg is morally more reprehensible than corporate tax breaks.
At least the dollar grab incited by the latter claims to improve Australia's employment prospects.
Joseph Ting, Brisbane, Qld
Trump might be crass but he's not wrong about everything
Trump is surely the most unusual US president ever. Crass? Definitely, but I can't disagree with his positions on NATO and Germany.
Previous presidents have complained about the low contribution from European countries for defence against (presumably), Russia.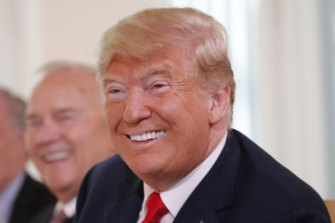 The desired contribution is 2 per cent, but only three countries in NATO spend that much, including the US which provides around 60 per cent of the total NATO budget. So, it's fair for Trump to say that Europe is getting its defence on the backs of the US taxpayer.
Trump also said that Germany is controlled by Russia. In a way that's true – Germany is decommissioning its nuclear and coal-fired power stations, and now gets 60-70 per cent of its gas supplies from Russia, which could turn off the taps any time it wanted.
At the same time, Germany wants the US to essentially fund a defence posture against Russia. Go figure.
In fact, the Merkel/Putin energy agreement goes much further than the Hitler/Stalin agreement in 1939. That was a non-aggression pact, meaning neither side would attack the other, plus an agreement to divide up Poland. Hitler, of course, totally reneged when he attacked Russia in 1941.
Merkel will be remembered as the worst ever German chancellor once you also also factor in her disastrous immigration policy which saw more than a million African "refugees" flood into Germany.
John Burns, Hall
Honouring our doctors
It was a magnificent effort by the two Australian doctors, in their courageous contribution to the rescue of the Thai children trapped in the flooded cave. No doubt, their acts will be examined thoroughly when all the hard facts have been presented and investigated by the Honours and Awards Council.
The council can only do this after a properly completed nomination has been received, with all supporting documentation. The council will examine issues such as training, their experience, and the contribution of others in rendering the situation as safe as possible in the first instance.
The Cross of Valour has been awarded five times since being established in 1975. In each of these cases, it was considered that, in accordance with the guidelines for this award, the recipients had a 90per cent probability of death, or no chance of survival as a result of their act.
Petitions and letters written to the Governor-General for the award of a specific order of recognition, are ineffective and inappropriate, however emotional the initial media, public and political reaction.
The web site, www.itsanhonour.gov.au, details the proper procedures to be followed in nominating someone for a bravery award. From the time of nomination to actual investiture, should there be one, it can be anything from about 18 months to two years, and in some cases longer.
David Hewett-Lacon, Gowrie, NSW
Step up on drones
Just recently the federal government announced it had made an agreement with the American defence industry giant Northrop Grumman to purchase US-made military drones to be used to further strengthen the defence of northern Australia.
Even though this is a done deal, in Australia, we should be developing, producing and exporting our own military drones. Australia once pioneered in drone technology in the early 1950s for military purposes with the Jindivik.
The Jindivik was produced during 1952-86 and again in 1997 and 517 of these Australian military drones were produced for the Australian and international markets. Why not create a new Australian Jindivik drone-manufacturing organisation?
A new Jindivik drone company could be created by a joint venture with the federal and state governments and an Australian company that has the ability to produce a drone that could be used for military purposes.
If Australia had a major drone-producing organisation that produced drones for multiple purposes, it could earn billions in exports.
If the federal and a state government were a part owner, it could earn millions for them annually.
It could create hundreds of new manufacturing jobs and be a major boost to the national economy.
Malcolm Webster, Boronia, Vic
Catch with electric cars
During hot weather power companies threaten power cuts if too many airconditioners are switched on.
How will they cope with the addition of thousands of motorists trying to recharge their electric cars?
Is the present system capable of supporting a much higher current demand? I suspect that only countries that have converted to atomic power may be able to support a conversion to electric vehicles within two years.
Relying upon solar or wind power would require large storage capacities to allow for sunless or windless days. Banning the sale of petrol and diesel-powered cars could cause enormous power and transport problems.
How would a boost in power output affect the price of electricity, isn't it too high already? I suggest that until power stations are able to reliably produce a considerable boost in output at a reasonable price, all electric cars will need to be fitted or supplied with an i.c. engine-driven charger to relieve overloads on the national grid.
Purpose-designed small internal combustion engines, running at constant speed, can be economical and reasonably clean, reminiscent of the old "trolley accs" used for aircraft ground support.
They may also help to recover some of the fuel tax revenue lost by the introduction of electric vehicles.
Alan Blake, Duffy
Missive error-prone
Philip Benwell's latest monarchical missive (Letters, July 17) is riddled with errors.
Incoming federal parliamentarians do not swear allegiance to the "Queen of Australia"; they swear allegiance to "Queen Elizabeth", whose principal occupation is British Queen. The Australian constitution is not an "Australian document"; it is a "British document" – part of an act passed by the Westminster Parliament. Benwell asks who do republicans think Sir Peter Cosgrove is, if not our head of state. They think he is the head of state's vice-regal representative in the Commonwealth of Australia.
Frank Marris, Forrest
Bad start to great day
News this morning:
Trump bows to Putin = breakdown of international rules-based order.
ANEMO report apparently leaves scope for more coal-fired power stations = global warming continues.
Australian executive salaries continue to rise while wages are stagnant = community discontent and revolution.
Not a good start to the day, but it is a lovely sunny morning in Canberra.
Rod Holesgrove, O'Connor
TO THE POINT
BALLOON JUST JUVENILE
The ugly, insulting balloon flying over London should make Londoners think more carefully about their lord mayor. Insulting a president of the United States in such a juvenile fashion should be condemned. I left England 55 years back, and am sad to see the London I knew is being brought down to such a disgraceful level.
Patricia M. Smith, Mount Martha, Vic
JOB DONE
The Helsinki summit clearly shows why Putin's internet trolls worked so hard to help elect Trump.
Thos Puckett, Ashgrove, Qld
TRUMP LOSING PLOT
It's difficult to keep up with the unhinged rhetoric coming from Donald Trump. One European journalist could only say this : "It's difficult to describe such scenes except in psychiatric terms." If our crazy old Uncle Bill had spoken in the same manner we would have needed a family conference because the old bloke had lost the plot.
Steve Ellis, Hackett
FRIENDS YOU DON'T NEED
Do we really need the current bull in a china shop wreaking havoc in Britain visiting us? Then again Malcolm Turnbull and Trump are great mates and will find any visit more of a love-in than a full-frontal attack on us. All we have to do is buy his military hardware and join his country in any misadventure he will no doubt continue to create.
D. J. Fraser, Currumbin, Qld
FORCE LACKING
I can hardly believe what I've read ("Appeal for help after road rage 'threats', July 13, p9). The ACT police force is unable to trace the owner of a vehicle for which it has a make, model and the three letters of the number plate? It has this information on a readily accessible database, doesn't it?
If it is unable to undertake even this sort of basic detective work, then God help us all!
Dick Parker, Page
WISE UP ON SOLAR PANELS
After a few years of subsidising the rooftop solar feed-in tariff, I felt the same as Graham Downie (Letters, July 16). I installed enough panels to generate about half our household consumption. I figure I'm subsidising myself so I come out about even and imagine most households are in a similar boat. Downie and his ilk should stop tarring us all with the same brush and wise up.
S. W. Davey, Torrens
ENOUGH TO MAKE YOU GAG
First it was the ABC, now it's the Auditor-General ("Hehir hits out at Treasurer's pre-budget gag", July 16, p3). First the budgets were reduced and now the CEO cannot tell the MPs who approved the budget of the change. At least that's consistent. The government doesn't like FOI and it certainly doesn't want an anti-corruption commission either.
Gary J. Wilson, Macgregor, ACT