WIN Television selling up its Kingston base to move to Fyshwick after 26 years making stars
It's the slightly daggy building in Canberra's inner-south that has been the launching pad for some of Australia's current crop of news, sport and current affairs stars – Samantha Armytage, Melissa Doyle, Erin Molan, Peter Stefanovic, Hamish Macdonald, Lachlan Kennedy and Gabrielle Boyle among them
And now it's come to the end of an era.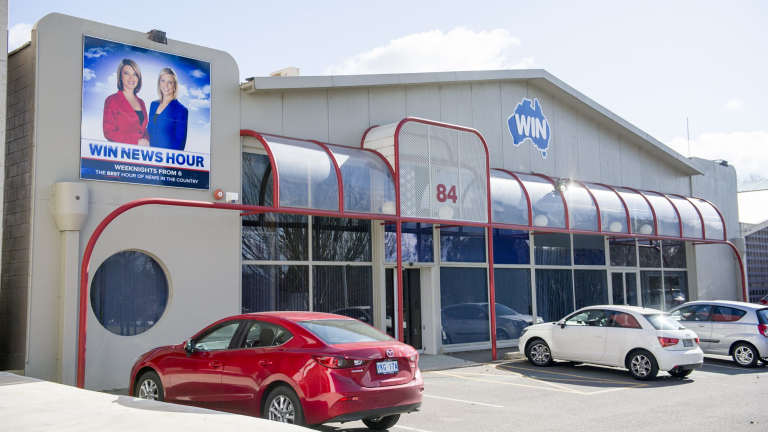 After 26 years on the site, WIN Television is selling its Canberra headquarters in Kingston and moving to Fyshwick.
The prime real estate on Wentworth Avenue – owned by WIN Television owner Bruce Gordon – is due to be auctioned by Colliers International on September 3, most likely for redevelopment for residential units.
Colliers International ACT chief executive Paul Powderly said he expected the site to sell for between $2 million and $2.5 million, suited more to small to medium developers.
"We've had a lot of interest," he said. "We've known it's been coming up for a while and been talking to 30 developer or building groups."
Mr Collier said he believed the 1786 square metre site would "definitely" be redeveloped for units, saying the glut of office space in Canberra all but ruled that option out.
A statement from WIN Television head office confirmed the news operations would shift to Fyshwick after being in Kingston since 1989 with the start of television aggregation.
The network did not want to yet reveal the exact location in Fyshwick, with lease negotiations continuing.
"Staff will move their operations from Kingston to Fyshwick, allowing them to develop a workplace more suitable to the needs of media in the 21st century," the statement read.
"The reporting and presenting of news is a constantly changing field that requires an adaptable, mobile team drawing on resources tailored to their roles.
"The new building allows the WIN team to create an environment that will enhance their reporting skills and provide access to latest technology and assets while enjoying a fresh, lively atmosphere in the workplace.
"The move is scheduled to happen within the next three months."
While the Kingston building has aged it is also a storehouse for many memories, many career-making moments and literally thousands of news stories.
Many reporters got their break there and progressed to the big networks in Sydney or overseas. Both Doyle and Armytage went on to helm Sunrise. Molan has a national profile for her role on The Footy Show. Stefanovic, Macdonald and Kennedy went from ACT Assembly reporter to international news young guns.
Others went on to hold senior behind-the-scenes roles at Channel Nine including Fiona Dear and Danielle Post as chief-of-staff for the news organisation.
Those who worked as WIN chief-of-staff in the Kingston building have gone on to other important roles. Former WIN chief-of-staff Jeremy Lasek is now chief executive officer of the National Australia Day Council.
Another former WIN chief-of-staff, Jorian Gardner, is now chief-of-staff to Australian Sex Party leader and Victorian politician Fiona Patten.
The Kingston building was also where the Canberra bulletin was broadcast from until July 2013, when it was instead presented from Wollongong. The late Peter Leonard was its most well-known newsreader. Other well-known local names to work in the building included former weatherman Tony Lynas and former sports presenter Phil Small.
Megan Doherty is a reporter for The Canberra Times