Woden to reach for the heights
In a radical shift from conventional apartment towers, the ACT Land Development Agency is planning for public spaces on top rather than plush penthouses on a big car park site in Phillip.
''Vertical villages'' up to 28 storeys high are proposed, which will surround a new park at Woden Town Centre, between the library and Aviation House.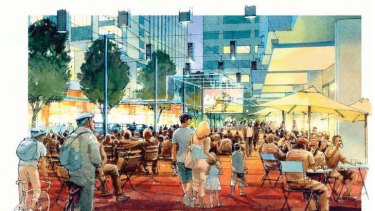 More than 670 dwellings and structured parking spaces for 1000 cars will be built in the first step of major overhauls for the town centre, bus interchange and Westfield Woden.
New apartments will rise from the foot of Woden Valley as high as Canberra's tallest building, the 93-metre Lovett Tower, as part of the government drive for a compact city.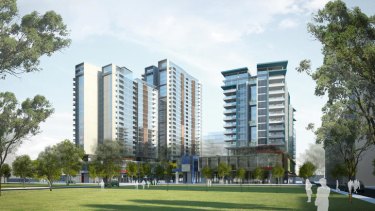 Redevelopment will begin transforming Melrose Drive into a boulevard with a new pedestrian crossing with traffic lights to complement the existing underpass crossing, to entice more Lyons residents into the bustling town centre.
Under the plans, Melrose Drive would develop progressively like St Kilda Road in Melbourne, and Sydney's major inner thoroughfares of Oxford and William streets, while the town centre's service road, Corinna Street, would become a cafe strip.
An offset for higher density and space, the new park which will be bigger than Kingston's Green Square, and flanked by a new community centre.
The town centre hasn't changed much despite a 2004 masterplan. Pedestrians have all but deserted the eastern side because of the bus interchange and blank mall walls.
The ''Woden Section 9'' project aims to create dynamic urban places including affordable housing, and easier pedestrian links between the town centre's east and west, while spreading public spaces to the highest point of tower blocks near Melrose Drive.
Every third level of the residential towers will have public space including a balcony for people to meet and sit in sky gardens to enjoy the sun, while retail, commercial and community cultural centres will develop at ground level.
A 27-storey apartment block approved on the site of Borrowdale House rivalling Lovett Tower, raised concerns from Woden Valley Community Council about over-shadowing and wind tunnelling.
LDA general manager urban renewal Ian Wood-Bradley said solar and window experts had worked on avoiding these issues at Woden 9 with designs to break the down draft and turbulence and block cold westerly winds.
Mr Wood-Bradley said the new park would received plenty of winter sunlight.
Temporary parking, followed by construction of an eight-storey structured car park would be done first to handle demand for parking. Ultimately 600 existing spaces would be replaced with 1000 spaces.
Planned to coincide with the bus interchange revamp, the three-year project could extend longer, depending on the method of delivery for development. Three development applications consistent with the Territory Plan had been lodged for approval with other government agencies.
''Town centres are appropriate places for heights and this is a key part of the government's agency for a compact, high quality city,'' Mr Wood-Bradley said,
Height was necessary to achieve enough scale to return a quality public realm, and 60 per cent of the existing car park would become public space.
''We believe this is a unique and quite radical proposal. It doesn't dominate the landscape, it maintains the hills as a backdrop and should set a benchmark for sustainable urbanism.''
Westfield Woden is being redeveloped to accommodate a Myer store. On the opposite side of Furzer Street, at Section 9, Canberra's Doma Group has approval for two 10-storey and five-storey buildings on the site of the Alexander and Albemarle buildings, which will be demolished. South-west of the town centre ,Hindmarsh is proposing a 35-storey, 100m-high residential tower with four nearby towers up to 20 storeys.