Woodlands defenders welcome 'inadequate' nature reserve in Watson
Conservationists have welcomed the nature-reserve listing of a Watson park but said it remained an inappropriate offset for an apartment complex next door.
Justice Robert Hope Park, created after a public campaign to prevent development on the site in 2002, will formally become a nature reserve if the recently announced draft variation to the Territory Plan is approved.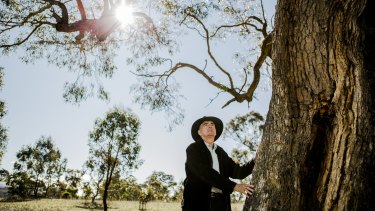 Conservation Council ACT executive director Larry O'Loughlin said the reserve listing would make little difference and would not change the plans to build a stormwater pipeline within the park as part of the adjoining 110-apartment development.
"It's not an appropriate offset, this is an area that is being looked after by the community already," he said.
"We expect that by diverting in the water in the way they've proposed they'll be adding pollutants to the area, making it almost always wet, meaning it wont have the general ebb in or out."
The council appealed the Planning and Land Authority's February approval of the Morris Property Group development, but discontinued its case in late June.
Watson Woodlands Working Group convenor Richard Larson said he was happy with the nature reserve listing for the park, home to more than 500 box-gums, but the difference for the site would depend on the extra expected funding and resources.
"They can provide fencing material, stakes, and are providing us with resources already in the forms of mesh, guards etc," he said.
"[But] it's not really an offset if you're going to remove 20-odd gums on the other block, you can't replace them," he said.
The changes would rezone the 18.6-hectare park from "urban open space" to "hills, ridges and buffer".
The Planning Minister, Mick Gentleman, said in May the park would offset the impact from the three-hectare medium-density apartment development on the neighbouring block and the extension of Negus Crescent to Antill Street at the nearby Prime Television site.
"The park is dominated by large, old prolific trees that provide valuable habitat for canopy-dwelling birds and woodland fauna," he said.
The draft variation also proposed adding 19 hectares to the existing Pinnacle Nature Reserve in Belconnen, offsetting the development impact of the University of Canberra Public Hospital.
The park is named after the late NSW Court of Appeal judge who headed two landmark royal commissions into Australia's security and intelligence services.
Reporter at The Canberra Times