Defence, Veterans Affairs may contribute to post-traumatic stress suicides says VC recipient
Defence may be contributing to suicides by war veterans with post-traumatic stress disorder by discharging them before their Department of Veterans' Affairs cases are settled, according to Australia's oldest living Victoria Cross recipient, Keith Payne VC.
Mr Payne, a Vietnam War hero who has fought his own battle against PTSD, wants all service personnel with cases before DVA kept on strength until their matters have been resolved.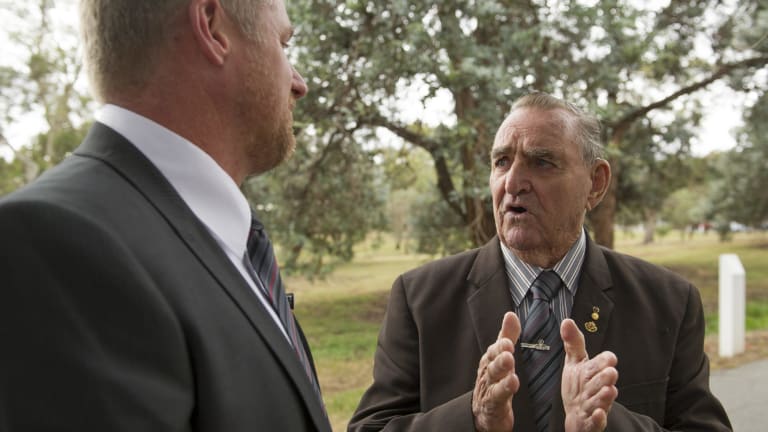 The 81-year-old Soldier On ambassador was at Crace for the launch of the service charity's Hand Up program by Prime Minister Tony Abbott.
Robert Pickersgill, a graduate of the Hand Up pilot program who spent 23 years in uniform and served in Rwanda, East Timor and Iraq, agreed.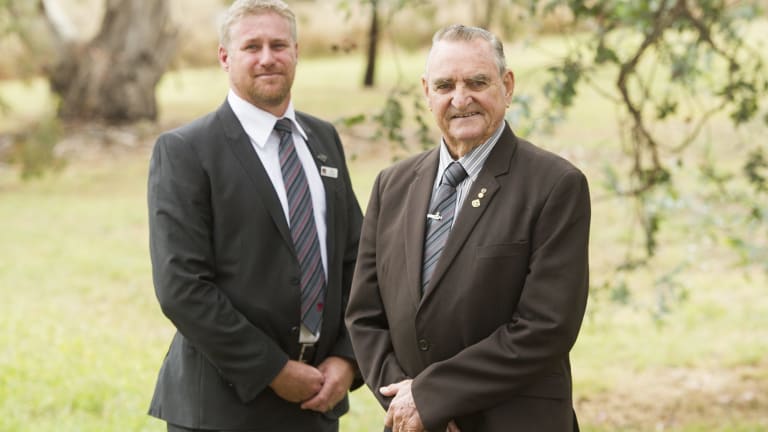 "Soldier On is taking up the slack," he said. "It shouldn't need to be here but I am very grateful it is."
Former Chief of Army and Soldier On board chairman, Professor Peter Leahy, is concerned psychologically injured soldiers are being dismissed without an adequate safety net.
"We need to listen to Keith Payne," he said. "Keith is in good touch with veterans and knows their concerns."
Mr Payne has prepared a submission, backed by the Nowra branch of the RSL, for a "2400 Hour Program" to close the gap between the Australian Defence Force and the Department of Veterans' Affairs.
The Senate is conducting an inquiry into the mental health of ADF personnel after combat, peacekeeping or other deployment. Prompted in part by the high rate of suicides among veterans, it is to focus on PTSD, mental health policies, counselling services and record-keeping for hospitalisations and deaths.
It is believed almost 200 Afghanistan war veterans have taken their own lives. Another 2600 have been confirmed as suffering PTSD.
Neil James, the executive director of the Australia Defence Force Association, said the issues were too complex for a one-size-fits-all solution to work.
People who left the ADF of their own accord before psychological injuries surfaced would continue to fall through the cracks.
"The worst cases tend to involve people who have a psychological illness but who don't have it in a serious way until after they have left. It can take years," he said.
Mr James said PTSD issues were extremely difficult to resolve. Matters were made worse by the fact that a person whose mental illness involved an element of paranoia could be resistant to working with a bureaucracy such as the DVA.
Mr Payne, a former warrant officer with the Australian Army Training Team in Vietnam, is one of Australia's most decorated soldiers.
He has counselled victims of PTSD and said his own symptoms did not manifest until after he left the army.
"I had 10 really bad years," he said. "At one stage I was almost frightened of the DVA. It was in that post-Vietnam era and there was still a sense of the moratorium."
Mr Payne's main concern is the 18-month to two-year period after a person leaves the ADF.
"They no longer have an income or a position of responsibility, they are fighting DVA to get their claims recognised, they have problems in the home, they become homeless and that is when we are getting most of our suicides," he said.
Mr Pickersgill said it could be difficult to get assistance.
"It is about the process to some people [in DVA] and not about the people, and that is the big issue," he said.
Soldier On's Hands Up program is a suite of educational and employment services to help wounded men and women as they battle with the transition to civilian life.
The Senate inquiry is due to report back in February 2016.
David Ellery is a reporter for The Canberra Times.