Eric Nelson obituary: motorcyclist, mechanic and Canberra's fastest 'Indian'
Prominent on the pages of The Canberra Times in April 1970 was a photo of a veteran motorcyclist at an old drag strip near Harman, hunched over his handlebars, dressed in black leathers and wearing an old "pudding basin" crash helmet. The set of his shoulders showed clearly he was determined to win.
And win he did. The caption mentioned 101.67 miles per house, a 1000-cc machine and fastest in the "all powers" section. It didn't mention the sniggers from the young guns present when the veteran first arrived, nor the speed at which the smirks vanished from their faces as the machine flashed over the finish line. It was a seminal moment.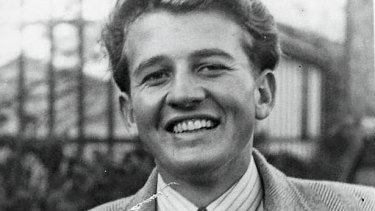 That motorcyclist was Canberra's Eric Nelson, who died three days short of his 90th birthday; a true gentleman, a natural engineering genius and a supremely skilled motorcyclist.
As well as his skills on two wheels, for nearly 50 fifty years Nelson was the go-to man for Canberra's vintage car and bike community for any job, large or small. His natural ability to diagnose problems, combined with his inherent skill with a wide range of fix-it machinery in his lean-to workshop at home, ensured that all manner of vintage machinery was kept on the roads.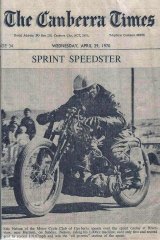 No job was too small for Nelson, who loved quietly discussing with owners how he would approach the problem and talking them through solutions. He would fix anything for anyone. He would weld up broken pedal cars and garden structures, he could design and make crankshafts for ancient vehicles, and he could do complete engine rebuilds.
Nelson was born in Drummoyne, Sydney. He and his two siblings, Edward and Shirley, were raised primarily by their mother, Eva. His childhood was generally not a happy one. His father, Edward, returned somewhat damaged from his experiences in World War I; there were times home life was unpleasant. Nevertheless, these experiences shaped him into the caring and supporting husband and father he was to become.
After completing school, Nelson gained a "certificate of competency as locomotive fireman" in 1946 and worked for the NSW Government Railways. Much of this time was spent in and around Sydney based at the railway yard at Clyde, as well as the railway workshops at Enfield, where he quickly learnt his trade as a fitter and turner.
But at this youthful stage in his life, Nelson, a naturally quiet man, was a "wanderer". In 1947, he travelled by ocean liner to New Zealand, where he lived in Christchurch with his cousin Shona and began racing speedway solo motorcycles at tracks around the South Island.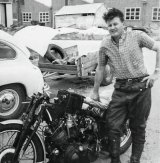 In 1950, he returned to Sydney but, after spending just nine days at home, travelled to Adelaide, where he worked in general engineering shops for several months before leaving in September on the first of two clockwise "working holidays" around eastern Australia. His route took him from Adelaide through Alice Springs to Darwin, then across to Townsville and down the east coast to Sydney. The first trip took more than a year and was mostly undertaken on an overloaded International Norton motorcycle. The second began in 1952 and followed the same route, this time in an MG TC sports car, ending back in Sydney in 1953. His mechanical skills were needed several times on both journeys to keep his vehicles running.
Nelson was passionate about motorcycles. In 1951, he bought a 1000-cc Vincent HRD and, with a rudimentary sidecar attached, he competed regularly at Mount Druitt and Bathurst in the early 1950s, with his brother-in-law Kevin as riding ballast for stability on corners.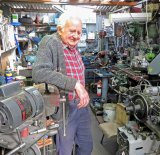 In 1955, soon after his second working holiday, Nelson and the Vincent returned to Adelaide. He initially worked there as a diesel mechanic but soon joined one of Adelaide's largest motorcycle dealers, Lenroc, as a mechanic and machine assembler. Here, he was able to fully indulge his love of motorcycles and continue his motorcycle racing career on the Vincent, by now rebuilt and tuned by him as a drag bike.
By 1956, Nelson had met and married his wife Doreen, a South Australian girl born in Penong. Together, they bought a block of land in the then outer Adelaide suburb of Durnancourt. While living in a caravan on the block, Nelson set about building their first house, which was completed in 1959. Their two children, Paul and Jennifer, were born during this period and he continued racing on the road and on the track. In the mid-1960s, there was nothing in South Australia that could keep up with Nelson and the big Vincent.
In 1967, the family moved to Canberra, where Nelson became the workshop manager at the local BMC dealer, Larke Hoskins. He continued his drag-racing career until the mid-1970s, making many trips to Sydney's Castlereagh drag strip and even returned to speedway racing at Canberra's Tralee Speedway in 1970.
Nelson also worked for several years during the late 1970s as an air-conditioning mechanic before buying a tip truck and becoming an earth-moving contractor. He owned a series of trucks over the next 15 years and was extensively involved in the earthworks for the construction of the Googong Dam and new Parliament House. He eventually bought a bobcat loader and continued working as an earth-moving contractor before "retiring" during the mid-1980s to spend more time in his garage/workshop.
Nelson will be sorely missed by his motorcycling friends and by Canberra's large vintage-vehicle fraternity. His skills as a fitter and turner and mechanic were legendary, and vehicle owners will be reminded of him and his work on their cars and motorcycles every time they take them out. He continued his passion for machinery and was working right up until a sudden stroke in December 2017, which led to his eventual death at Claire Holland House.
He is survived by his wife Doreen, his sister Shirley, his two children Paul and Jennifer, and their partners.