Leaders bet futures on rival tax cuts
JULIA GILLARD and Tony Abbott will go head to head in a tax battle today with the Prime Minister detailing for the first time elements of the carbon tax compensation package while Mr Abbott promises across-the-board tax cuts instead.
Ms Gillard will call for a reality check on what constitutes middle-income levels as she flags aiming the bulk of compensation for a price on carbon at households earning well under $150,000.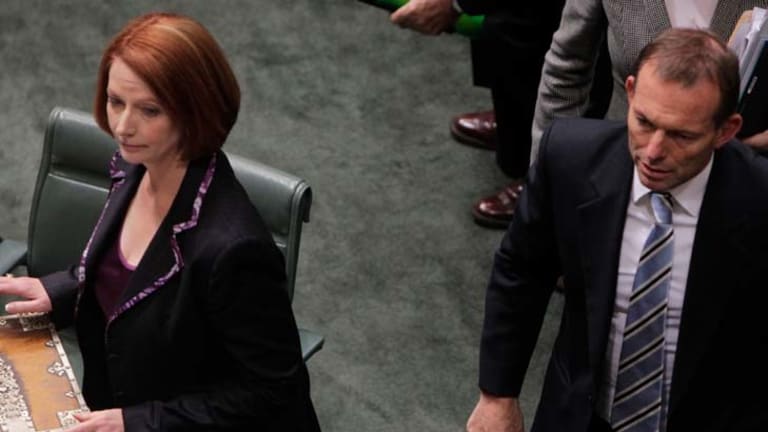 She will also confirm that the compensation for low- and middle-income families will be paid as permanent tax cuts, pension increases and increases to family payments.
In a sign a deal with the Greens and independents is close, she will say the compensation will be tailored to suit family circumstances.
''By providing tax cuts and increases to payments this way, we can take account of people's different family circumstances - whether they're on high or low incomes, whether they're bringing up kids or not,'' she said.
Mr Abbott will hit back in his speech to today's Liberal Party federal council, with a counter offer to voters of ''tax cuts without a carbon tax''.
He will promise that, if elected, he will repeal the carbon tax and the associated compensation but introduce broad tax cuts funded by spending cuts and productivity increases, the details of which are yet to be worked out.
The May budget capped at $150,000 the income threshold which governed the eligibility for family tax benefits and other so-called middle-class welfare payments.
It sparked opposition attacks on the government for regarding $150,000 as ''rich'' and heightened speculation that $150,000 would be the income threshold for eligibility for carbon tax compensation.
This week, the opposition passed the budget measures without protest.
Today, Ms Gillard will indicate the carbon compensation would be concentrated on those with incomes well below $150,000, although those on incomes close to that level might receive some relief.
''It's people on low incomes who spend the highest proportion of their income on energy. They are the people who need the most financial help with cost-of-living pressures,'' she will say.
Ms Gillard will say people on $150,000 are not rich ''but I think they're a lot better off than the vast majority of families''.
''So I do think this debate has become a bit unrealistic. The national conversation about government payments has lost sight of the facts.''
Ms Gillard will point out that the average household income is $68,000, while a typical family with children gets by on about $85,000 a year.
Just one in 10 households earns over $150,000.
''Most of my attention is on looking after people who really need that extra bit of help.''
The government hopes that when the compensation package is announced, Mr Abbott will be wedged because he will have to go to the next election promising to take money off people.
The carbon tax will raise about $11 billion from polluters and just over half will fund the household compensation.
If Mr Abbott repeals the tax, he will have no extra revenue to retain the compensation. But today he will promise to find the money for his own tax cuts.
''At the next election, the Coalition will deliver tax cuts that are not just compensation,'' he will say.
''The Coalition will fund these tax cuts through prudent economies in government spending and through policy-driven improvements in the productivity of our economy.''
The Treasurer, Wayne Swan, said the Opposition Leader had failed to say how he planned to return the budget to surplus, let alone fund more tax cuts.
Morning & Afternoon Newsletter
Delivered Mon–Fri.