Master of the universe
Australia's best-known astronomer thanks his lucky stars for a blessed life, writes Deborah Smith.
It is an auspicious day on which to have lunch with Dr Fred Watson. A rare alignment of the sun, Earth and moon has resulted in a blood-red total lunar eclipse just before dawn - the longest in a decade.
The lanky astronomer-in-charge of the Australian Astronomical Observatory rushes into the Fusion Cafe in suburban Marsfield, apologising for being a little late. Not surprisingly, it has been a busy morning. He was up at 3am, and then again at 4.30, checking the weather in the hope the celestial spectacle would be visible from Sydney. At 6.20 he was talking on the radio, in his usual weekly spot on ABC Breakfast, and he then drove into the city for a TV interview, all before work.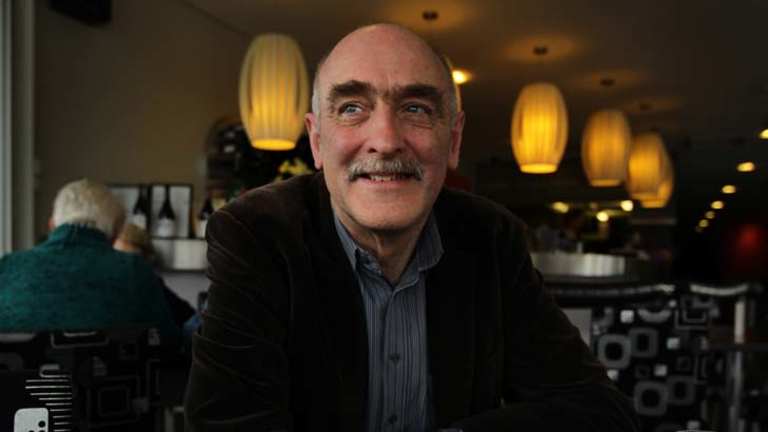 A lunar eclipse is significant for another reason. Watson, the country's best-known consultant on the wonders of the universe, shares a birthday with the great 16th-century Danish astronomer, Tycho Brahe. ''I can't say I'm exactly 398 years younger than Tycho Brahe because, of course, the calendar changed in 1752 in the UK,'' he tells me, launching into a detailed explanation of the shift from the Julian to the Gregorian calendar.
The hapless Brahe is famous for using a total lunar eclipse to foretell the death of Suleiman the Magnificent, only to discover the Ottoman leader had died weeks beforehand. This day's lunar eclipse has also turned out to be less than a PR triumph in Sydney, with many early risers, including us two, unable to see it through rain clouds.
But Watson's enthusiasm is undaunted. Just hearing about it will lift people's minds from the mundane to the bigger questions of existence. ''Even if nobody sees the eclipse, it is a reminder that the world we live in is part of a huge cosmic mechanism.''
Running up and down between three floors of computers at the telescope near Coonabarabran keeps the astronomer lean and fit. And he chooses a light lunch - a Caesar salad with salmon which he declares to be delicious. ''The salmon is very fresh.''
Although he seldom drinks during the day, he decides to join me with a glass of sauvignon blanc, apologising again. ''To your very good health,'' he toasts, in his engaging Yorkshire accent, adding there was wisdom in his choosing a restaurant only a few minutes' drive from the Observatory's Epping headquarters.
It's not just been a busy day for him. It's been a busy week and Watson is suffering from astronomer's jetlag. Only two days earlier he had come off his regular monthly stint of five nights of observing, when he goes to bed about 7am and rises in the early afternoon. Starting the night shifts is fine, he says. ''It's like flying from here to Europe. But coming back onto days is a nightmare. You're trying to bring all your body clocks forward.''
After the final night of observing, he slept for a while and then drove the 5½ hours back to Sydney, a trip he enjoys. ''It's long enough for an entire Wagner opera. I find it quite therapeutic.''
On arrival, he gave a talk at the Australian Museum and now he has topped the week off with a very early morning. It's a hectic pace for someone who is ''way beyond their use-by-date'', he jokes. ''I'm 66 now. And when I say that, I'm shocked. I think: how on earth have I got this far without actually growing up?''
The author of numerous books and a music CD, he is one of the few Australian scientists to have his calendar up on the web for all to peruse, so much is he in demand outside his day and night jobs. Apart from his media appearances and public talks, which include promoting Australia's bid to host the Square Kilometre Array radio telescope, he writes articles, supports amateur astronomy groups, makes music and researches the history of scientific instruments.
Watson, who has two married daughters in Scotland from his first marriage and two sons in Australia from his second, is also a champion of public education and protection of the night skies from light pollution.
His partner, Marnie Ogg, a travel consultant, helps organise his commitments, and their latest venture is astronomical tours. So far, he has led groups to Peru and on a tour of the telescopes of Europe, based on his book Stargazer. Next year he will take a tour to Scandinavia to see the northern lights and to Iceland to see the volcanoes.
''I've been so lucky, the way things have worked out. If I believed in God, I'd think someone was looking after me,'' he says. ''It's probably the universe.''
Watson's entrance into the world, on the other hand, was ''inauspicious'', he says. He was born on the outskirts of the grimy city of Bradford in a street originally called Thief Scare Lane that was later upgraded to Cemetery Road. ''I thought all stones were black until I was 16 and went to London,'' he recalls.
By that age he knew he wanted to be an astronomer. Most boys in those days were fascinated by science and space. ''And we'd just won a war on the basis of technology.''
God got a look-in at that time. ''Just before I went to university I got mixed up with a fairly fundamentalist Christian group in Yorkshire. A lot of it was hormones. I fell in love with the pastor's daughter. We were actually engaged,'' he says.
But the only lasting legacy was learning to play the guitar, so he could sing gospel songs. This talent paid off when he studied for a master's degree in astronomy at the University of St Andrews in Scotland.
For extra income, Watson taught guitar and sang in folk clubs frequented by Billy Connolly and Gerry Rafferty. In Australia his musical skills have expanded significantly to include collaborations with the Australian composer Ross Edwards, among other things, writing the libretto for Edwards's award-winning choral symphony, Star Chant.
One of the highlights of Watson's 2008 telescope tour of Europe was being ''reunited'' in Italy, after 40 years, with a mirror he remembered very well from working closely on it in his first job, with the telescope builders Sir Howard Grubb, Parsons and Co.
At lunch, the sight of a tiny misprint in the menu reminds him of his second job, working in a Sussex castle in the 1970s for Her Majesty's Nautical Almanac Office, which provided astronomical data for mariners and other groups. One of his tasks was to proofread lists of tables for an hour a day. ''Ever since then, any page that has a mistake on it just leaps out,'' he says.
His long astronomical career took him back and forth between Edinburgh, Cambridge and Coonabarabran, before he finally settled here in 1995, as astronomer-in-charge of the observatory's two telescopes.
His scientific reputation is based on his pioneering use of fibre optics in astronomy and the development of high-tech instruments to explore space. Between 2001 and 2009 he was part of the team that surveyed more than 130,00 galaxies to produce a map of the nearby universe. And he is currently project manager for the 10-nation Radial Velocity Experiment - dubbed RAVE - which involves measuring the speed of up to a million stars to study the evolution of our own galaxy, the Milky Way.
''We've also weighed our galaxy,'' he pipes up. The answer? ''1.4 x 10 to the 12 solar masses.''
Watson says it has become much easier, compared with a decade ago, to persuade people and authorities to switch off the lights and preserve the darkness of the skies, due to increased awareness about wasting energy and contributing to greenhouse gas emissions.
Encouraging students to study science and maths at university, however, remains a challenge. But as a board member of the NSW Public Education Foundation, he has helped introduce a scholarship program for girls in years 11 and 12 to study physics. ''I feel I owe public education a lot.''
His lifelong passion for science communication, which culminated in his winning the Eureka Prize for promoting understanding of science in 2006, had its origins at the nautical almanac. People would often ring and ask him questions about the stars and the planets, and he has been entertaining and informing people about the universe they live in ever since.
Liking people is the main prerequisite for being a good science communicator, he says. ''And I do like people.''
And while he has no intention of slowing down, he is heartened that many young astronomers are keen to talk about their research as well.
''I think that is the mark of a scientist. You're driven by curiosity - wanting to find out things and then tell people about them. It's about making sure people know there are interesting things going on in astronomy and Australia punches above its weight.''