Missing Malaysia Airlines plane: Australian aircraft spots four orange objects at sea
An Australian military aircraft has spotted four orange objects at sea, more than two metres in size, which will be analysed by the Australian co-ordination centre for missing flight MH370.
Clear skies and a search zone closer to land had meant greater visibility and a cluster of object sightings for the Australian P-3 Orion crew captained by Flight Lieutenant Russell Adams on Sunday.
"We were able to detect many objects in the water today," Flight Lieutenant Adams said, speaking on the tarmac at RAAF Pearce base Sunday night, after an 11-hour mission.
"We were able to rule a few out as fishing buoys and fishing nets, however, of interest today we did encounter an area within approximately five nautical miles which included at least four orange coloured objects greater than approximately two metres in size each.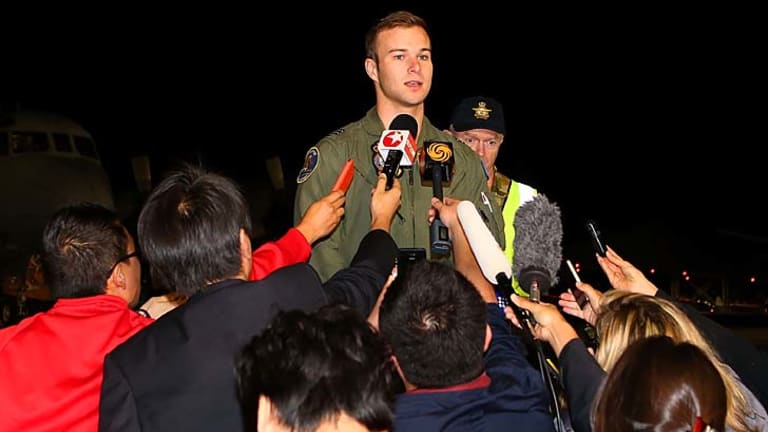 Flight Lieutenant Adams said the origins of the objects was still unknown, but the co-ordinates and images had been passed on to the rescue co-ordination centre and a GPS buoy dropped in the area.
"It's for the rescue co ordination centre to analyse these and send investigators to investigate as they see appropriate, however, for my crew, from our perspective this was the best visibility we had of any objects in the water and gave us the most promising leads," he said.
Because the Orion had stayed in the same area for most of its mission on Sunday it had fuel to burn and was able to stay at sea an extra hour.
"We really wanted to investigate those objects to give ourselves the best chance of identifying them before we came home," Flight Lieutenant Adams said.

Rania is a health reporter at The Age.
Morning & Afternoon Newsletter
Delivered Mon–Fri.