A forensic expert whose evidence contributed to the unfair trial of a man over the assassination of a top policeman has appeared as a Crown witness against accused Family Court bomber, Leonard John Warwick.
Robert Collins Barnes was heavily criticised in an inquiry into the conviction of David Eastman, who spent 19 years in jail for the 1989 shooting murder of Australian Federal Police Assistant Commissioner Colin Winchester.
Mr Eastman, a former public servant, was in November found not guilty of the murder following a five-month retrial - which did not include Mr Barnes' evidence - before the ACT Supreme Court.
Mr Winchester was shot twice in the head at close range while getting out of his car in his neighbour's driveway in the Canberra suburb of Deakin.
Mr Barnes' analysis linked gunshot residue found in Mr Eastman's boot with that found at the crime scene, describing the retrieved particles as "indistinguishable".
The inquiry found that, among other errors, Mr Barnes mixed up exhibits from Mr Eastman's Mazda and the crime scene.
In his report on the inquiry, Acting Justice Brian Martin identified serious concerns about Mr Barnes' impartiality.
"He behaved in a manner totally inconsistent with the independence of a forensic expert. He identified himself with the prosecution and plainly demonstrated his bias in favour of the prosecution," Mr Martin wrote.
In a motion argued before the NSW Supreme Court in October, a solicitor acting for Mr Warwick urged Justice Peter Garling not to allow Mr Barnes to be called by the prosecution.
Mr Warwick, 71, is accused of murdering four people and injuring several others in a string of deadly bombings and shootings in the 1980s.
It is the Crown case that Mr Warwick targeted people linked to a drawn-out custody battle between him and his estranged wife, Andrea Blanchard, over their only daughter, Trudi.
His solicitor, Alan Conolly, argued against Mr Barnes being called to provide forensic evidence, saying the Eastman Inquiry report cast his credibility as an expert witness into doubt. "The findings of this report are so damning that this man should not ever be before the Court as an expert. He should not be listened to. He should not be an expert before the Court," Mr Conolly said on October 15. Mr Conolly pointed to findings in the inquiry relating to Mr Barnes' "stubbornness, rudeness and intemperate language" and said it was in the interests of a fair trial not to allow him in the witness box.
Justice Garling dismissed the notice of motion, saying it wasn't in the court's power to bar the Crown from calling a particular witness.
His remarks were recently made public after an order suppressing Mr Barnes' association with Mr Eastman's trial was lifted. Justice Garling said it was up to him as the trial judge to determine the credibility of Mr Barnes' evidence.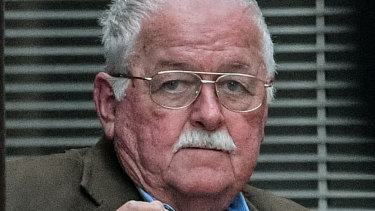 "It will be a matter for the Crown to determine what evidence it seeks to lead from Mr Barnes and it will be a matter for the accused, through his lawyers ... to attack the accuracy and veracity of any of it or the credibility of the witness generally," he said.
Mr Warwick's trial is ongoing.
Angus Thompson is a court reporter for the Sydney Morning Herald.