'It is just an outrage': Sea Eagles' oval under scrutiny
The naming rights of Manly Sea Eagles' Lottoland stadium would come under pressure under a proposal to be considered by Northern Beaches Council on Tuesday night.
The council is set to consider an anti-gambling strategy, aimed primarily at reducing the harm from poker machines.
But the ability for local governments to control the number and use of poker machines within their area is limited under state law.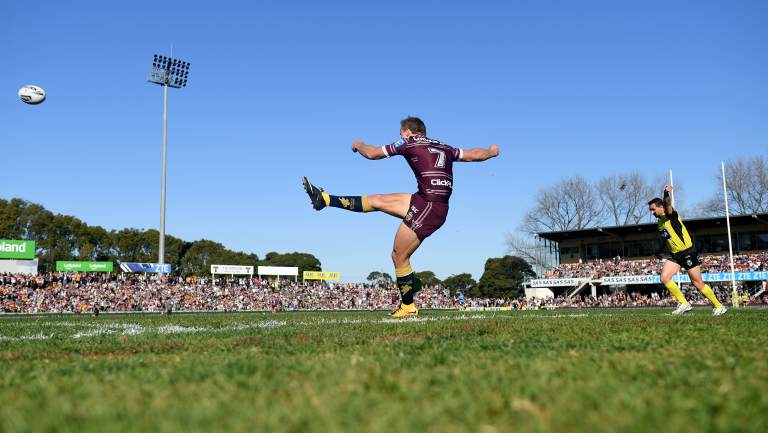 The council's "harm minimisation strategy", therefore, proposes that the council demonstrate "community leadership through not allowing gambling related advertising on its buildings".
"This will impact assets such as Brookvale Oval," the strategy says.
Pat Daley, a Liberal councillor who has pushed the anti-gambling strategy along with Greens councillor Natalie Warren, said the strategy would "absolutely" look at the naming of the stadium.
"I think it is just an outrage … we are calling on council to look at that," said Cr Daley, who added he would move that the gambling strategy be subject to a two-month consultation.
When the Sea Eagles, who lease the stadium from Northern Beaches Council, signalled their intention to sign a naming rights deal with Lottoland, the then administrator of the council Dick Persson said he was powerless to stop the deal.
"I expressed my view to the Sea Eagles that I didn't think it was a good name, unfortunately the previous council did not include any veto right over the naming rights and I don't have the ability to influence it apart from expressing opinion," Mr Persson said in February 2017.
It is unclear what the direct impact of the anti-gambling policy would be. The mayor, Michael Regan, said if the policy was adopted he would imagine current agreements would continue but new licences would not permit such terms.
Another proposal before the council is to consider restricting or banning poker machines on council-owned properties leased to other organisations, through conditions in the lease.
Such a policy could however have a major financial impact on community clubs – such as golf or bowling clubs – and therefore the recommendation to council is to include such clauses where appropriate.
The strategy is in response to a council motion in November, endorsed 10-3, to call on the state government to cap poker machine licences in the area, and also to devise a council-led harm ministration strategy.
Under the Gaming Machines Act 2001, councils are, in effect, prevented from using planning powers to restrict or curb poker machines in their area.
The Herald has requested comment from the Sea Eagles.
Jacob Saulwick is City Editor at The Sydney Morning Herald.