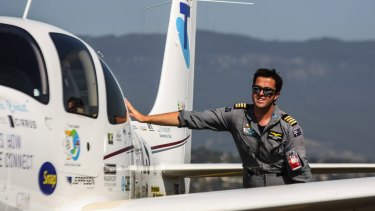 "Ryan is going to be okay, he has sustained injuries but it could have been a lot worse."
His parents and brothers have flown up to be by his side.
"They were understandably very shocked when they found out what happened and they are still a bit emotional," Andy Campbell said.
It is understood the young pilot alerted emergency services to the crash.
The 58-year-old male passenger, Gary Turnbull died at the scene.
His daughter is believed to have watched on from the airport hangar as the tragedy unfolded.
Andy Campbell, who is also an experienced pilot and the owner of Merimbula Air Services, said the crash occurred just after take-off and the aircraft had not reached any great altitude.
"If the aircraft suffers loss of power at low altitude and you're forced to land the plane the window of opportunity you have to make decisions is extremely limited," he said.
"He would have had very limited time to work out where he was going to land the plane."
At 19, Mr Campbell became the youngest person to fly solo around the world after 70 days piloting a specially-modified single-engine Cirrus SR22, named The Spirit of the Sapphire Coast.
From the age of six, he was determined to become a pilot, and could fly a plane before he could drive a car. He had his first flying lesson at 14, made his first solo flight at 15, got his private pilot's licence at 17 and his commercial licence at 18.
Senior Sergeant Greg Brakes told ABC News at the airfield the plane was believed to have crashed shortly after it took off from an airstrip at Norwell just before 9.30am.
"I know that the plane does some joy flights - I'm not sure if this was a paid-for joy flight or something else," he told the broadcaster.
It is not the first time tragedy has befallen the Pimpama company.