More than 50 residential, commercial and industrial properties will be swallowed up to make way for the new motorway tunnel linking the M2 and M1 in northern Sydney.
Representatives for the $3 billion NorthConnex project have begun doorknocking property owners to notify them their land is needed to construct the nine-kilometre tunnel designed to ease congestion and remove trucks from Pennant Hills Road.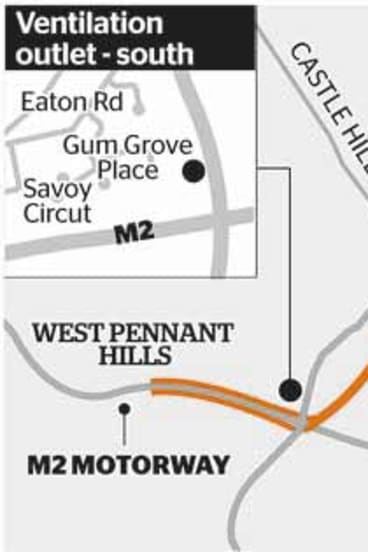 A spokesman for Roads Minister Duncan Gay said it was too early to say which properties would be bought or what level of compensation would be required.
''While building a tunnel requires less property acquisition than a surface motorway, some property will need to be acquired for this project,'' he said. ''The project team is committed to working closely with those affected to allow the necessary acquisition to be progressed ahead of work starting in 2015.''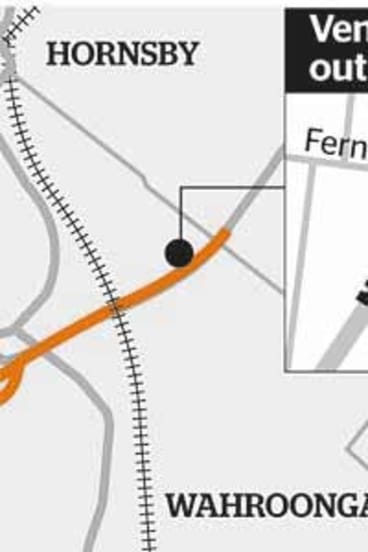 But property owners in West Pennant Hills or Wahroonga whose homes are not needed for the tunnel may find themselves living near one of two ventilation outlets identified in the project's latest plans.
Diagrams show the tunnel's northern ventilation facility would be built near existing houses on Woonana Avenue North and Bareena Avenue in Wahroonga.
The southern ventilation outlet has been proposed where the Cumberland Highway meets the Pennant Hills Road interchange.
That stack would be metres away from Graeme Scott's home on nearby Gum Grove Place.
Mr Scott said residents on his street had received ''absolutely no information'' about how they might be affected. ''We've been worried about it for years,'' he said.
Mr Scott, who expressed concern about emissions from the ventilation stacks, said he would be disappointed if his family was not among those given the option to move. ''Previously in these sorts of situations people have been given that sort of consideration,'' Mr Scott said.
Ku-ring-gai, Hornsby and The Hills shire council areas will be affected by the project. Hills Shire council, which welcomed the project, said it was advised the ventilation ''would be designed to meet EPA and Department of Health requirements''. ''The NSW government has also advised that the project designers have used lessons learnt in the past from other tunnel projects, including gradients,'' a council spokesman said.
Mr Gay's spokesman said consultation on the NorthConnex concept had begun in October, but ''with the announcement of the preferred scheme more detailed consultation can now take place''.
He said previous tunnel projects showed the ventilation outlets had ''no measurable impact to the local air quality'' and the final design of the outlets would be in an environmental impact statement released in May.
The Transport Workers Union said the state's truck drivers were ''seething'' that they would be forced to use the new tunnel, a toll cost they could not recoup from clients.
''A truckie using the tunnel twice a day, five times a week will get slugged with a bill of $183.20 according to figures circulated to the media,'' TWU state secretary Wayne Forno said.
But Jodie Broadbent from ATA NSW, the peak state body for the trucking industry, said its members supported the project.

Leesha McKenny is Urban Affairs Reporter for The Sydney Morning Herald
Morning & Afternoon Newsletter
Delivered Mon–Fri.