Max Walburn, 17, has loved dancing since he was six years old. His specialty is ballet but he dabbles in contemporary, too, and trains four days a week. So when it became time to choose HSC subjects, dance was an obvious choice.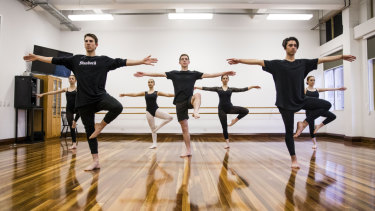 There was only one problem. His school, the all-boys St Aloysius College at Milsons Point, doesn't offer it. So every Wednesday Max travels to the HSC dance class at Bradfield Senior College in St Leonards.
He is joined by Jett Balbi, 17, a jazz and contemporary dancer from Marist College, Lyndon Frykberg, a hip hop enthusiast from St Leo's, one other boy and 19 girls from schools without enough dancers for an HSC class.
The HSC practical and performance exams begin next week, so the boys are busy rehearsing. Lyndon has an especially tough schedule; he studies music, too, so will have practical exams in piano and drums.
"My performances will be pretty full on," said Lyndon, who eventually wants to go to Los Angeles and forge a career dancing in video clips, movies or as a back-up dancer for performing artists.
Max' classmates at St Aloysius have been nothing but supportive of his dancing (he starred in Chitty Chitty Bang Bang as an 11-year-old). "I'm just known as the dancer," he said. "Friends come and see stuff and even though it's not their cup of tea, they enjoy it and support it.
"I feel that as the world moves forward with all its issues, [men dancing] is accepted. You can do what you want. It's just as masculine. Being male and being able to express yourself artistically is just as rewarding."
Bradfield College was established to give students alternative ways to study for their HSC. It specialises in the creative industries and offers traditional subjects as well as TAFE certificates in areas such as dance, music and design.
The practical component of two unit dance involves three performances: a core performance, a major study work, and a core composition (their own choreography performed by another dancer).
Few high schools have the numbers for an HSC dance class, so Bradfied's offering is particularly popular. "This subject is my favourite subject out of the ones I'm doing," said Jett. "I'm enjoying every minute."
More than 30000 students will do a practical or performance course component as part of their HSC this year.
Continue the conversation at our SMH Student Facebook group.

Jordan Baker is Education Editor of The Sydney Morning Herald