The prominent federal Liberal Arthur Sinodinos was treasurer of the NSW Liberals when the party received more than $30,000 in donations from a company he chaired, Australian Water Holdings, which was bidding for state government contracts.
Despite this, Senator Sinodinos has said he cannot remember the donations made in his time as both chairman and party treasurer.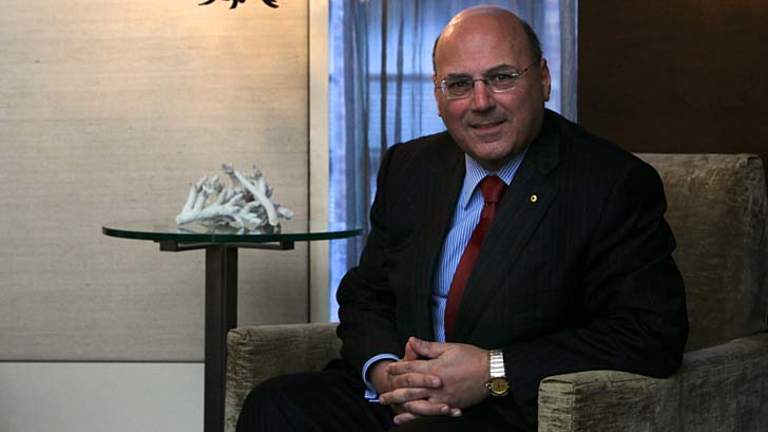 Australian Water Holdings' links to the Labor powerbroker Eddie Obeid were revealed by a Herald investigation last year. Mr Obeid has been accused by the Independent Commission Against Corruption of conspiring to make tens of millions of dollars from the awarding of coal exploration licences.
Nick Di Girolamo, also a major shareholder in the company, is a prominent figure in the NSW Liberal Party.
Senator Sinodinos is regarded as a frontrunner for a cabinet position if Tony Abbott becomes prime minister this year.
On Wednesday, apparently to distance himself from AWH, Senator Sinodinos announced he would forgo a 5 per cent shareholding to which he was entitled following his time as chairman, worth up to $3.75 million.
He told The Australian Financial Review that the board of AWH agreed to transfer the shareholding in January 2011 before he quit as AWH chairman the following November.
Asked about political donations from AWH he said: ''I have no recollection of individual donations and am unable to speculate about the motivation of third parties making donations''.
However, records show that AWH donated $60,453 to the NSW division of the Liberals between March 11, 2009, and May 13, 2011, including when the future senator was treasurer.
He attended his first board meeting as a director and deputy chairman of AWH in November 2008. He became chairman on November 3, 2010. A month later the company made its largest donation, $30,000, to the party.
The position of party treasurer is honorary, with no responsibility for managing political donations. But the treasurer also chairs the party's finance committee and has a significant role in political fund-raising.
The senator's office said he would make no further comment on the matter.
Since 1992, Australian Water Holdings has won project-management contracts for water infrastructure in the north-west growth centre worth more than $500 million. It transformed itself from a non-profit syndicate to a private company in 1999.
Under the previous state government, Australian Water Holdings argued vehemently with Sydney Water that its original contract guaranteed it the sole right to project-manage all future water infrastructure in the area.
With the help of the family of Mr Obeid, Australian Water lobbied hard for a $1 billion privatisation deal of Sydney Water's work in the north-west. But it also agitated for a letter from the Labor government that would acknowledge the company's legal right to manage the remaining $500 million worth of infrastructure work in the growth centre. This letter, which was needed to help raise venture capital, was never issued under Labor.
But in early 2012 the Coalition government quietly gave the company an exclusive 25-year deal.