WHAT began as a simple neighbourhood dispute in Sydney's north-west quickly escalated into a violent standoff that ended with a senior police officer dead.
The emergency call from Scheyville Road, Oakville just after 2pm had come from neighbours who wanted to complain about arrows being fired into their yard from a cross-bow.
But over the next two hours, 11 police who attended the scene were forced to take refuge behind a cordon as they fought off abuse, arrows, angry dogs and other weapons while trying to bring the situation to a peaceful resolution.
Tragically, that wasn't to be.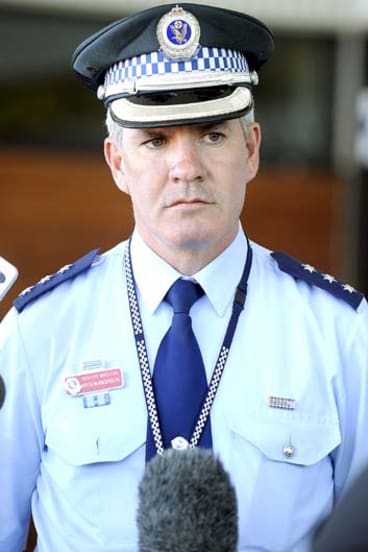 Fairfax Media understands that as the chaotic conflict unfolded, respected veteran officer Detective Inspector Bryson Anderson became separated from his fellow officers on the boundary of the semi-rural property.
Just after 4.15pm, Inspector Anderson died during a struggle.
The initial report to the ambulance service was that a police officer had been struck in the head with an axe.
A NSW Police spokeswoman said police would provide an update on Friday morning.
As officers pounced on a 19-year-old man and his 42-year-old mother, Inspector Anderson's colleagues tried in vain to preserve his life as paramedics rushed to the scene.
He was taken to Hawkesbury District Hospital but was pronounced dead on arrival.
The 19-year-old man and his 42-year-old mother were arrested and taken to Windsor police station, where they were still being questioned.
The Police Commissioner, Andrew Scipione, and the Deputy Commissioner, Nick Kaldas, rushed to the area to pay tribute to the officer and console his devastated colleagues.
Speaking outside the hospital, Commissioner Scipione said the police force had lost ''one of its finest officers''.
He described Inspector Anderson as a widely respected veteran of the force who came from a police family.
He is survived by his wife Donna and three children, and his father and brother were also police officers.
''He was an excellent officer and a damn good bloke,'' a visibly emotional Mr Scipione said.
''Bryson today has given his life in the service of the community of NSW.''
Mr Scipione said it was a very sad night for the force.
''There is a family inside that hospital grieving and a wider family across the state of NSW, the police family, that will be crying inside,'' he said.
Inspector Anderson is the 11th officer to be killed on duty since 1980.
Neighbours said the 19-year-old man was regularly seen hunting with a crossbow.
''He had job after job but he never kept one, and he lived off his mum's compo money,'' one said.
Mr Scipione declined to comment on the specifics of what took place, but confirmed a ''violent neighbourhood incident'' had preceded the officer's death, and there had been the ''use of some weapons''.
''We were looking to resolve this peacefully, unfortunately that was not the way it ended up,'' he said.
Mr Scipione said the events were ''a stark reminder to just how dangerous this job is''.
''Men and women in this state pull on this uniform and put their lives on the line … today you've seen the evidence of what happens when they're confronted with what potentially each and every one of us has to deal with on a daily basis.''
Throughout the evening, family members were dropped at the hospital in police cars and hugged each other as they entered the emergency ward.
Dozens of visibly shaken police also attended to pay their respects.
After leaving the hospital, Mr Scipione and Mr Kaldas spent time with grieving colleagues at Windsor police station.
The Premier, Barry O'Farrell, also paid his respects to the fallen officer.
''This is a very sad day for the NSW Police Force and the people of NSW.''
with James Robertson
Morning & Afternoon Newsletter
Delivered Mon–Fri.