The NSW government should consider creating a standalone asbestos dumping offence and a new regulator to confront the dumping black market, the Independent Commission Against Corruption has found.
The ICAC made the recommendations after finding Craig Izzard, a dumping inspector, engaged in serious corrupt conduct, helping offenders avoid detection in exchange for cash, mobile phones and firewood.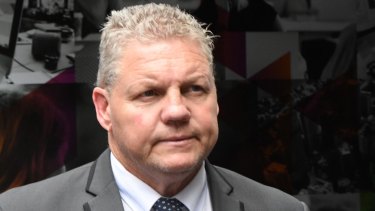 An investigation into Mr Izzard exposed a range of problems with the handling of asbestos, including an illegal market fuelled by the high costs of legal disposal.
Mr Izzard, a former rugby league player with the Parramatta Eels and Penrith Panthers, agreed to help facilitate an illegal skip bin business in Rossmore in Sydney's west in 2015 in exchange for a share of $10,000.
He agreed to intimidate the land occupier to leave and then help the dumper, Ibrahim Beydoun, move in.
The former Regional Illegal Dumping Squad member also received benefits from another businessman, Nosir Kabite, to overlook an asbestos operation at Vineyard in the city's west.
The matter has now been referred to the Director of Public Prosecutions for the consideration of criminal charges.
Fairfax Media revealed last month serious deficiencies in the response by authorities to illegal dumping, highlighting dumps that had not been cleared up for years.
In a report released on Wednesday, acting ICAC commissioner Reginald Blanch issued 15 recommendations to the Environment Protection Authority and the NSW government to reduce corruption risks associated with waste investigations.
"Fragmented accountabilities" across local councils, the EPA, SafeWork NSW and the dumping squads meant no one agency was responsible for dealing with asbestos, Mr Blanch found.
"As a result, there are gaps that can be exploited by unscrupulous and opportunistic operators," he said.
Further, the ICAC found there was "considerable misunderstanding" about waste disposal laws among those in charge of enforcing them. And the law currently does not distinguish between the illegal dumping of regular rubbish and that contaminated with asbestos, the fibres of which can cause deadly disease.
"Given the considerable public health risk posed by the illegal disposal of asbestos there is merit in having a specific, clear and serious standalone offence for the disposal of asbestos waste to emphasise the seriousness of the offence," Mr Blanch said.
He recommended the government consider creating a single co-ordinating authority with proper enforcement powers and adequate funding.
The ICAC heard in hearings last year that an illegal dumper disposing of one load of an average 30-tonne truck could avoid up to $13,500 in tip fees, including nearly $4000 in government levy payments.
"The high costs involved in lawfully disposing of dangerous material such as asbestos created an incentive to not comply with the law, facilitating a black market for dumping," Mr Blanch found.
"It is for reasons like this that illegal dumping is a highly profitable activity, while legal operators can struggle to remain viable."
The ICAC noted the EPA's argument that illegal dumping took place in areas without the government's $135 per tonne waste levy but recommended the authority look at ways to reduce tipping fees.
Environment Minister Gabrielle Upton said in a statement she would consider the ICAC recommendations.
"Work is already underway to strengthen the supervision of Regional Illegal Dumping Squads," Ms Upton said.
The Environment Protection Authority said it too would consider the recommendations but had already proposed new governance and funding arrangements for the squads.
These would include a requirement to conduct fraud and corruption risk assessments as well as independent audits every two years.
The two men who acted corruptly along with Mr Izzard, Mr Beydoun and Mr Kabite, have also been referred to the DPP for potential criminal prosecution.