Office perks: Customs' $9K coffee machine spend
Highly trained sniffer dogs at Australian Customs will be familiar with the strong aroma of coffee after two expensive coffee machines have been provided for their masters.
Written answers to questions from a recent Senate estimates hearing have revealed the Australian Customs and Border Protection Service bought two coffee machines during the 2011-12 financial year for the National Detector Dog Program Facility.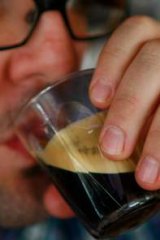 The machines cost $4,500 each, sparking outrage from Liberal senator Gary Humphries who had made the initial inquiry.
"I'm very concerned that while some agencies are shedding jobs other agencies are buying coffee machines to the tune of $4,500 a piece," Senator Humphries said.
"Labor's ham fisted approach to reducing the cost of government isn't providing any certainty to the public service.
"It doesn't send a clear signal to public servants who don't know how this government is thinking."
The Customs dog facility is located in rural Victoria in a location not close to cafes or coffee shops.
One machine is for staff use and the other is in a conference room.
In its written response to Senator Humphries' questions, Customs stated the NDDPF has between 60 and 80 staff or visitors on site on a daily basis, making an average 180 to 240 cups of coffee.
"The coffee machines were purchased as part of the initial fit-out costs associated with the construction of the NDDPF and as such were paid from capital costs associated with the fit-out," the answer read.
There was no mention of whether the dogs were trained to filter out the smell of coffee in their detecting duties; or whether the constant wafting of caffeine smells through the facility was affecting the canines' sleeping routines.
The Customs answers come just months after it was revealed taxpayers had spooned out more than $100,000 over three years to satisfy coffee cravings inside the Department of Resources, Energy and Tourism.
That amount was poured into nine coffee machines costing $7,025 each, $2,000 a year on maintenance and almost $37,000 buying the coffee for the machines.
But Customs has assured that all operating costs associated with employee use of its staff coffee machine in the dog program facility are paid by staff through a monthly contribution for coffee supplies.
Dog biscuits not included.
Chris Johnson is a political correspondent. Most recently Chris was the Canberra bureau chief, and national political correspondent for The Sunday Age and The Sun-Herald.