To some, they are the lost causes of the conservation world; a handful of species not only on the brink of extinction but elusive, hard to get to and even harder to track. Difficult.
They have led Dejan Stojanovic into some of the most remote corners of Australia, through rivers of mud and up trees. If the wind picks up, some days he will get motion sick in the branches.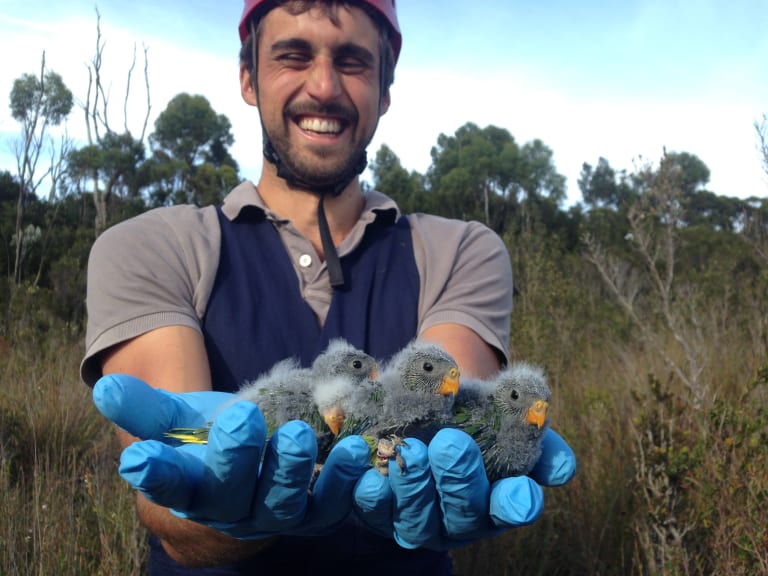 But to Dr Stojanovic, saving these birds is not mission impossible, it's just hard work.
He's part of a small team of ANU scientists taking on some of Australia's most challenging conservation cases at the aptly-named Difficult Bird Research Group, based in Canberra.
"We do the rejects," Dr Stojanovic explains.
"The birds where everyone goes 'oh there's nothing we can do for them, the conditions are too tough', basically the high-needs species.
"Everything we do is so urgent, there's no room to be defeatist."
Through a mix of old-fashioned field work in Tasmania, NSW and the ACT, as well as new technologies, the group has helped pull a number of species back from the brink, including Australia's most threatened bird, the orange-bellied parrot.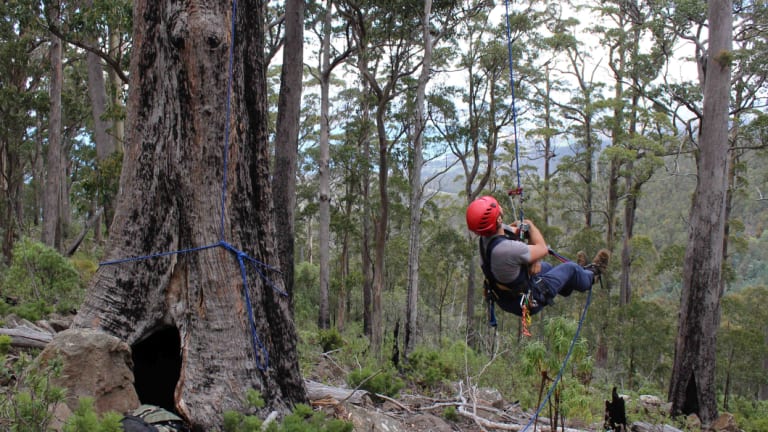 Last year, the team's research convinced authorities to start controlled burn-offs again in parts of south-eastern Tasmania to encourage the parrot's favourite food to sprout, and that summer an extra 10 chicks were born.
For forty-spotted pardalotes, the simple idea of coating nesting materials in insecticide has helped ward off blood-sucking parasites known to kill their young.
Dr Stojanovic had his own "eureka moment" one day in 2011 while checking on a nesting box and stumbling across a crime scene.
"The bird was completely torn apart," he says.
The culprit turned out to be an unlikely suspect - a sugar glider.
"Until then we hadn't known them to prey on swift parrots."
That discovery helped the team engineer solar-powered nest boxes that close against gliders at night to keep birds safe. The model has since been successfully exported to a handful of other threatened species in the area including the orange-bellied parrot.
But director Professor Robert Heinsohn says the research group has come in danger of extinction itself on more than one occasion in a climate of "chronic underfunding" for conservation. To survive, the group has turned to crowd-funding for urgent projects, he says.
"I've been overwhelmed by people's generosity."
Fortunately, the research does attract a certain commitment from its scientists.
"We're all adventurous types," he admits, recalling a few near-misses up trees of his own.
"What the team do is heroic really, but they do it because it's worth it.
"Everyone has sort of written these birds off and a lot of the work is skewed towards captive populations rather than the ones in the wild.
"Government agencies are frozen into inaction because they don't have the information they need to know what will help, and there's kind of this culture now that it's unattainable but it's not the case, we're out there doing it."
This week, the group was nominated for a Eureka Prize for its pioneering work in environmental research.
Learn more about the team at difficultbirds.com
Sherryn Groch is a reporter for The Canberra Times, with a special interest in education and social affairs