Perth's heroic last sea battle
A vivid account of Aussies fighting at sea reminds us of our strong naval heritage, says VICE-ADMIRAL RUSSELL CRANE
SEA BATTLES stem from ancient days, and as sailors we have an unending commitment to the traditions of life at sea. It follows that we value the work and way of life of those who have gone before us, and the capture of these historic occasions, in particular the human element, means more to a sailor than simple curiosity or general interest. It is the substance on which we build our future and our approach to life and war at sea.
There is a perplexity between war at sea and a sailor's unqualified commitment to protection and safety of life. This is difficult for those not familiar with a seafaring way of life to comprehend. But it is real and palpable.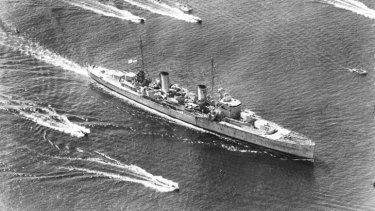 For a maritime nation such as Australia, truly girt by sea, the dearth of knowledge of our naval history and its contribution to nation-building, in particular in the human quotient, is disappointing. Some call it ''sea-blindness'' and it is something we must all work to correct.
Pattie Wright with her work on Ray Parkin's Odyssey has helped us enormously in this quest. We need more of it.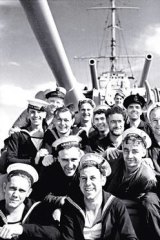 On February 14, 1942, HMAS Perth sailed for the Java Theatre. She arrived on February 24 at Tandjung Priok, Java. During the night of February 27-28, a 14-ship ABDA (American, British, Dutch and Australian) force engaged Japanese naval forces in the disastrous Battle of the Java Sea. Five Allied ships were lost in that action and Perth and USS Houston were lucky to survive.
Perth and Houston arrived at Tandjung Priok on February 28 after the day and night actions off Surabaya. Unfortunately fuel was low and Perth could only receive 50 per cent of full stowage.
Orders were received to sail with Houston and set a course for Sunda Strait. It was a clear evening with a full moon, and Houston was five cables astern of Perth.
At 2306, a vessel was sighted about five miles close to St Nicholas Point. When challenged, it proved to be a Japanese destroyer and was immediately engaged. Shortly afterwards, other destroyers were sighted to the north, and the armament split so as to engage more than one target.
During the action, enemy destroyers attacked from all directions, and due to the large number of enemy ships it was impossible to engage all targets and some were able to close to short range. The Japanese warships were protecting an invasion convoy of about 50 ships which were landing in Banten Bay, Java.
At about midnight it was reported that little 6'' ammunition was left, so Captain Hec Waller decided to attempt to force a passage through Sunda Strait. He ordered full speed and altered course for Toppers Island. Perth had barely steadied on course when it was struck on the starboard side by a torpedo. Captain Waller gave the order to prepare to abandon ship. A few moments later another torpedo struck just ahead of the first hit, and he gave the order to abandon ship. After five or 10 minutes a third torpedo struck well aft on the starboard side, followed by a fourth, which hit on the port side. The ship then righted itself, heeled over to port and sank about 0025 on March 1, 1942. Ray Parkin and two of the Perth men here today witnessed its loss.
Houston was still fighting, although badly on fire. It was hit by torpedoes and sank shortly afterwards closer inshore.
I want to thank Pattie for adding so meaningfully to the preservation of an important and significant part of our naval history. We are not good in the navy at preserving our history through literary work, and her contribution, along with the contribution of all who assisted in putting this Odyssey together, is highly valued and greatly appreciated.
John Reeve and David Stevens wrote in their publication The Face of Naval Battle of ''the veil of Invisibility'' in naval warfare, contending that three factors contribute to this: the nature of the event, the nature of those involved, and what remains afterwards.
In terms of the nature of the event, they maintain that naval combat action can be very fleeting, and even in the age of modern sensors can be highly unexpected and literally over in a flash, leaving less of an event to create an impression on human memory. Witnesses are often rare, and in many cases taken by the enemy or the perils of the sea.
In discussing the nature of those involved, they say a sailor's way of life and war are different from those of a soldier and distinct from the life of a civilian. Seafaring is a technical skill with a separate language of its own. Sailors have traditionally lived in somewhat segregated coastal communities, and beyond these on the seas and as transients in foreign lands. Theirs is but a partially visible sub-community, and society is conditioned for their regular absence. Unsurprisingly their stories of war penetrate society less readily. They are not in a sense ''user friendly'' as sources of contemporary history. Sailors are not generally inclined to publish their stories, although there are exceptions and clearly Ray Parkin is one of those. Life at sea is normally busy and not conducive to literary activity. Modesty and discretion (hallmarks of the silent service) have traditionally been held up as naval virtues, and navies have frequently shunned publicity.
And what remains of the naval battle after the event? In memory of our shipmates who have gone before us and been lost at sea (some say now resting in the bosom of the ''Great Mariner'') the introduction to the naval Ode states:
They have no grave
But the cruel sea
No flowers lay at their head
A rusting hulk is their tombstone
Afast on the ocean bed.
What could be more true? Ships are sunk, and those ships that survive are scrapped, with few exceptions. There are no walkable battlefields and historical reconstructions are impractical on any scale. Few visual records of naval actions are available, because sailors are intensely occupied in a warship in battle.
This veil of invisibility has, despite its often-claimed virtuous nature, been a challenge for our navy in seeking the recognition our sailors so richly deserve. Despite our 112-year history as a Commonwealth and Royal Australian Navy, and with many truly heroic actions such as those of Captain Waller in HMAS Perth and Ordinary Seaman Teddy Sheean in HMAS Armidale, to name but two, we have yet to see a VC awarded to an Australian sailor. While this invisibility and lack of recognition remains, we must not rest easy. We owe it to these men and all those who fought alongside them to correct this injustice. I welcome the current review by the Defence Honours and Awards Appeals Tribunal into this lack of recognition and encourage its members to find a way to correct this inequity.
I also want to speak a little of the broader navy family, because this is an element of our navy which often goes unheeded. I was particularly taken by sections of Ray's Odyssey which recounted his feelings and love of family while he was at home, but perhaps more importantly while away at sea and fighting and as a POW. Life at sea can be very lonely, and when times are tough and dangerous, it is thoughts of our families that keep us going. Ray has aptly captured this in his recollections of homecomings from routine and war operations. I was taken by a description of his being on a beach in Sydney, Coogee I think, and his sketching of his family. I note he included in that sketch Perth on the horizon, probably hull down, but there with his family.
The navy family endures a great deal, particularly when we are away, and more so, obviously, in times of war. The strength of our family bond dominates and supports us in difficult times, and there is not a naval family man or women among us who could admit to not having a lump in their throat when returning home and seeing their family on the pier as the ship arrives. To the families across the generations, I want to say thank you for your support to our navy. I know all of us who have served or continue to serve our navy and our ADF value that support.
■ Vice-Admiral Russell Crane was Chief of Navy before his retirement in 2011.
This is an edited extract of a speech he gave in Melbourne at the launch of Ray Parkin's Odyssey, a new biography by Pattie Wright. Pan Macmillan, RRP $49.99.
■ Jack Waterford returns next week