Julia Gillard to speak at Woodford festival: Hawke
For the first time in the Woodford Folk Festival's 27-year history, a sitting prime minister will take the stage.
Former prime minister Bob Hawke told Fairfax Media that he would be participating in a discussion with Ms Gillard on Sunday, taking questions from festival director and Woodford identity Bill Hauritz.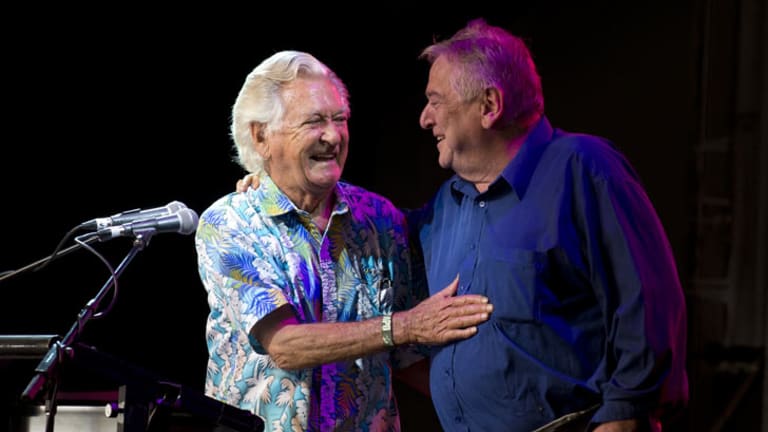 "I certainly suggested to Julia that it would make a lot of sense for her to come," Mr Hawke said, adding that it "said a lot about Woodford" that Ms Gillard had treated the invitation seriously.
"It's a very good gathering of people, they have different political views. I think there will be a lot of people of the green persuasion but all shades of political opinion are present, but they are very tolerant. They like to listen and learn."
Mr Hawke has already given a talk at the festival, as has high profile federal opposition member Malcolm Turnbull.
But Sunday will be the first time a sitting prime minister has attended the popular event.
"We are honoured with a former prime minister and, for the first time, we have been honoured by a visit by a sitting prime minister," said a "humbled" Mr Hauritz.
"It's a special moment, irrespective of what party they are from; it's a great honour.
"We have had speakers from all political persuasions here ... and to have this, which will be confirmed absolutely tomorrow [Sunday] is a great honour."
Mr Hawke, who is on his fifth visit to the festival - "I absolutely love it" - said he expected the discussion to cover more than Labor Party ideals.
"It should be interesting," he said.
"It depends to a large extent on the questions, but Bill is an intelligent bloke and he'll ask a range of questions, which won't be just of interest to him, but of interest to the audience."
While the festival is not actively political, patrons are encouraged to listen to a wide range of views and opinions and the organisers operate on an "all are welcome" philosophy when it comes to choosing speakers.
"It's certainly been a place for social commentary of the day," general manager Amanda Jackes said.
"We've had a speakers program in place since back in the Maleny days.
"It's always been a real gauge of what's happening in the community and what people are speaking about. And you can't avoid political debate."
In some quarters, Woodford may still have a reputation as a "hippie festival" but as the event has grown and matured across the past three decades, so has the appeal.
Woodford now attracts more than 110,000 people from all aspects of the community and across the political spectrum across the six days.
"But I come here to enjoy myself, I don't come here as a political activist," Mr Hawke said.
"That's not what this festival is about."
Morning & Afternoon Newsletter
Delivered Mon–Fri.