Peter Greste flies home to Brisbane: 'It feels absolutely awesome'
After a harrowing 400 days in an Egyptian cell, Peter Greste is back on home soil.
The Al Jazeera journalist, who was jailed in a Cairo prison for more than 400 days, arrived from Cyprus, via Singapore, on an Emirates flight at Brisbane International Airport shortly after midnight on Thursday morning.
Following a private meeting with his family – including parents Juris and Lois and brothers Andrew and Mike – Peter Greste emerged from Customs at Brisbane International Airport a free man shortly after 1am local time.
He emerged among cheers from a band of supporters who had awaited his arrival and a throng of media.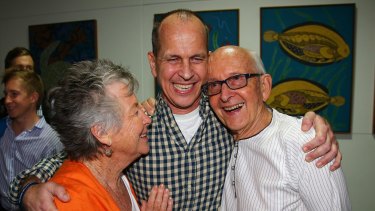 A jubilant Greste offered a short statement thanking his supporters and calling for the release of his two Al Jazeera colleagues, Mohamed Fahmy and Baher Mohamed.
"I can't tell you how ecstatic I am to be here," Greste said in the airport's arrivals hall.
"This is a moment I've rehearsed in my mind at least 400 times over the past, well, 400 days and it feels absolutely awesome to be here with my family, with you guys.
"But of course this is all tempered, and I'm going to say this a million times, tempered by a real worry for my colleagues Mohamed Fahmy and Baher Mohamed.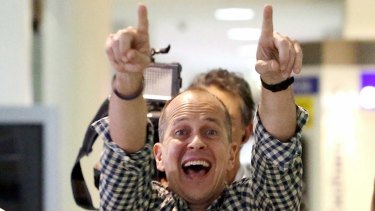 "For all of the other guys that were imprisoned alongside us – there were four others, three students and a businessman – all those who were convicted in absentia.
"If it's right for me to be freed then it's right for all of us and I think this is an opportunity.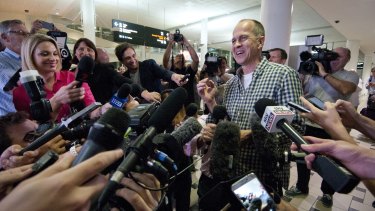 "This has generated enormous amounts of goodwill right across Australia, right around the world, and I think Egypt now has an opportunity to show that justice doesn't depend on your nationality.
"If it's right for me to be free, it's right for everyone else who was imprisoned in our place to be free and it's right for all of those who were convicted to be free of those convictions."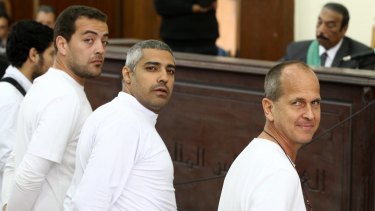 Greste said it was "awesome" to be able to hold his family again.
Mike Greste had travelled with his brother from Cyprus, while the rest of the family met him at Brisbane Airport.
"My family have been the bedrock throughout all of this," Peter Greste said. "My family have been absolutely awesome. I couldn't have done this without them, you guys wouldn't be here without my family.
"All I've done is sit in a cell and write a couple of letters. They've been the ones to drive this and to be back with them, to celebrate this with them, has meant the world.
"That's what this has been all about."
There are hopes that Fahmy, a dual Egyptian-Canadian citizen, could be released to Canada in the near future after he renounced his Egyptian citizenship.
However, the fate of Baher Mohamed, an Egyptian, is less certain.
The trio was convicted in June last year on charges they colluded with a terrorist organisation – the Muslim Brotherhood, which won democratic elections after the fall of former president Hosni Mubarak – to broadcast false news and tarnish Egypt's reputation.
Greste and his Al-Jazeera colleagues had their convictions overturned in an Egyptian appeals court last month.
Having had a night together at their home, Greste and his family were sceduled to speak to media again in Brisbane on Thursday morning.