Records add heat to climate debate
A sweltering 2013, Australia's hottest year on record, is the product of climate change and the warming trend is set to continue, experts say.
The Bureau of Meteorology's annual climate report shows that 2013 was Australia's hottest year since records began in 1910, with the hottest spring and summer, the hottest January and September, the hottest summer day and the warmest winter day.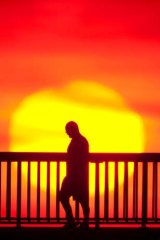 The national mean temperature was 1.2 degrees celsius above the 1961-1990 average.
It also confirmed 2013 as Canberra's second-hottest year since records began, with an average maximum temperature of 21.7 degrees, 2 degrees above the historical average.
A blistering start to 2013 was followed by a series of "warm waves" that swept across much of the country at intervals of four to six weeks apart, and have continued into 2014.
Labor and the Greens seized on the record-setting weather to accuse Prime Minister Tony Abbott of ignoring the science and listening to the ''tinfoil hat brigade'' about climate change.
Labor accused Mr Abbott of remaining stuck in the belief that global warming was ''absolute crap'', a remark he made in 2009.
''The policy he has is a con job that you have when you think that climate change is absolute crap,'' acting Labor leader Penny Wong said.
Foreign Minister Julie Bishop retorted that Senator Wong was being ''nonsensical'' and said the Coalition would meet Australia's 5 per cent carbon reduction pledge through its ''direct action'' policy.
The report also follows a fierce attack on climate change science this week by businessman Maurice Newman, the chairman of Mr Abbott's business advisory group. Mr Newman branded climate change a "scientific delusion" and accused the Intergovernmental Panel on Climate Change of "exploiting the masses" and using "dishonesty and deceit".
Acting Greens leader Richard di Natale accused Mr Abbott of ''listening to people who are part of the tinfoil hat brigade''.
Professor Will Steffen, a climate scientist at the Australian National University and a member of the Climate Council, said temperature trends have been "sharply upward" since the 1960s and predicted 2013 will look a lot less remarkable in years to come.
"When you accumulate more heat in the atmosphere, the odds are you're going to see more high-temperatures records broken," Professor Steffen said.
"If we keep emitting (carbon dioxide) at the rates we are now, in another three or four decades, 2013 will look like an average year, perhaps even a cool year."
Nationwide, mean temperatures were 1.2 degrees above the 1961-90 average, easily beating 2005's anomaly of 1.03 degrees. Maximums were even more out of whack, with temperatures 1.45 degrees above average and almost a quarter degree higher than 2002's previous record deviation of 1.21 degrees.
All states and territories had their hottest years by maximums, bar Victoria, which had its third-warmest year and Tasmania, which posted its sixth warmest.
Sydney's 2013 was the city's hottest in observations going back to 1859, with a slew of records broken including the hottest day and the fewest cold nights.
Inland regions have lately had another bout of searing heat, with Walgett in the state's north-west reaching 49.1 degrees on Friday, breaking a NSW record that had stood since 1939.
"Australia has set a new record-high temperature (in 2013) in a
period when there's been no El Nino event (and) global temperatures have not increased so rapidly," said David Karoly, a climate scientist at the University of Melbourne. "So this is particularly unusual."
Australia's records "cannot be explained by natural variability alone," Professor Karoly said. "This event could not have happened without increasing greenhouse gases, without climate change."
Over 2013, the exceptional heat has been attributed to a delayed monsoon, record warm waters around the country and fewer cold fronts than usual.
Inland Queensland and NSW, again broiling in high-40s heat, "is also the core of the area that is in significant drought at the moment", said the bureau's senior climatologist Blair Trewin. "Because soil moisture is lower than normal, you have less capacity for moisture at ground level cooling the air slightly," he said.
September posted Australia's most exceptional heat. Nationally, maximums were 3.41 degrees higher than average, including 4.68 degrees in NSW and 5.39 degrees in South Australia - the most for any state in any month in a century of standard records.
While mild by mid-summer standards, the warmth prompted "accelerated or premature development of plant and crops", the bureau noted in 2013. Such growth exposed crops to late-season frosts across several states. with AAP