A Richmond trader has defied VicRoads' threats of prosecution and taken repeatedly to a busy street with a stop sign to control traffic as a protest against "dangerous" tram super stops.
Herschel Landes, president of the Bridge Road Traders Association, has marshalled street traffic several days this month at two new tram super stops on the faded inner-city shopping strip, in an act of civil disobedience that has drawn a warning to desist from the state's roads authority.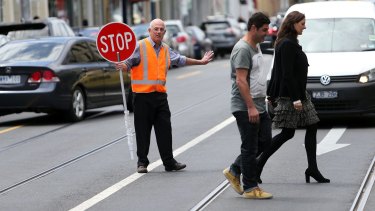 But VicRoads has also conceded the pair of drive-over level access stops might need to be tweaked to make it easier for pedestrians to cross the road.
The stops, installed last year at a cost of $2.4 million to improve access for people with limited mobility, were judged a success in a recent report, potentially paving the way for the installation of hundreds more across Melbourne's suburbs.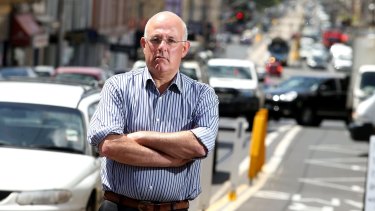 But the report also noted that since the stops were installed, a higher proportion of pedestrians were giving up and returning to the footpath when trying to cross the road, or spending more time standing in the road.
Mr Landes said the stops had made it more difficult to cross Bridge Road, a once-thriving retail strip that has fallen on hard times. About one in three shop fronts are vacant.
"This implementation was supposed to be an accessible tram stop, that was going to help provide commuters and pedestrians with a more accessible outcome," he said. "Instead it was implemented without pedestrian crossovers and has made the road difficult to negotiate, complex and confusing."
In response to Mr Landes' fierce lobbying, VicRoads said it would put in pram crossings at one of the two stops.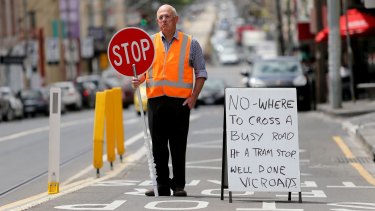 But the authority also asked him to stop his regular protest sessions, which include stopping car traffic, warning he could be in trouble if an accident occurred.

"I ask you to please refrain from controlling traffic on Bridge Road," Brendan Pauwels, VicRoads' acting director metropolitan projects, wrote to Mr Landes. "You are not authorised to control traffic, and the legal implications to yourself could be significant if an incident occurred whilst you were controlling traffic."
But Mr Landes said he would not be dissuaded from his protest.
"I'm pushing on. People appreciate the help," he said.