The only hotel in the small Gippsland town of Buchan has been destroyed by fire overnight.
Country Fire Authority spokesman Glenn Thompson said crews set off to save the Buchan Caves Hotel, 350 kilometres east of Melbourne, after receiving a call at midnight on Tuesday that it was engulfed in flames.
Mr Thompson said it took 55 firefighters and nine fire trucks about 90 minutes to bring the fire under control.
The pub, which was built in the 1890s, was also the only accommodation of its type in the area. The blaze has left a damage bill of about $1 million.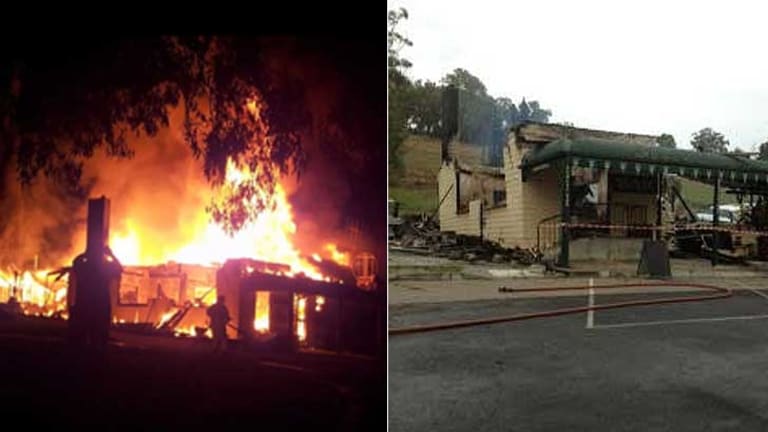 CFA duty officer Kevin Mann told radio station 3AW it was a tragedy for Buchan residents.
"It was the only hotel in this small township, so certainly it's a sad loss for the locals," he said.
Susie Edwards, who has lived in Buchan for many years, said the pub was the lifeblood of the community.
''It's very devastating for the town to lose it,'' she told Fairfax Media.
''It's been there for a lot of years, and it's where everybody meets. I don't know where the farmers will meet tonight at 5pm.''
Ms Edward's connection to the pub is also personal – her great-grandmother and grandfather both once owned it.
''My mother grew up there, my grandfather had it many years ago. It's just so sad to see it go.''
She said the loss of the historic building would have a huge impact on the local community during the Easter break.
''We have an extra 300 people over Easter coming for the three-day rodeo,'' she said. ''Where are they going to drink now?''
The pub was also the meeting place for residents who had survived floods, bushfires and droughts over the years, Ms Edwards said.
''They would talk about their problems and get through them together there,'' she said.


Morning & Afternoon Newsletter
Delivered Mon–Fri.