A North Melbourne man in his 20s has been arrested and is being questioned by police after driving a stolen ute along the footpath of Rathdowne Street before plowing into the front of the Paragon Cafe, connected to underworld figure Mick Gatto.
One woman has been taken to hospital with minor injuries and dozens of Carlton North diners and pedestrians narrowly escaped death or serious injury.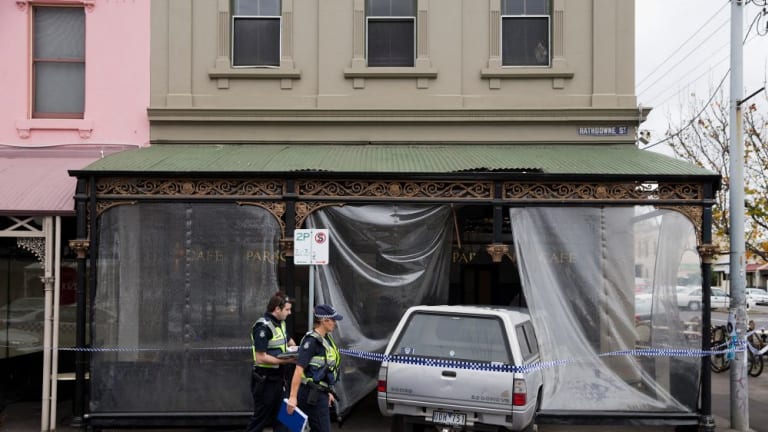 The silver Holden Rodeo drove along the footpath for two blocks between Lee and Newry Streets at around 11:45am on Saturday morning, smashing tables at cafe Small Victories and Degani and destroying the book tables at Alice's Bookstore.
Senior Sergeant Fiona Bock said the North Melbourne man got out of his car after smashing into Paragon Cafe, and ran down Newry Street towards the cemetery.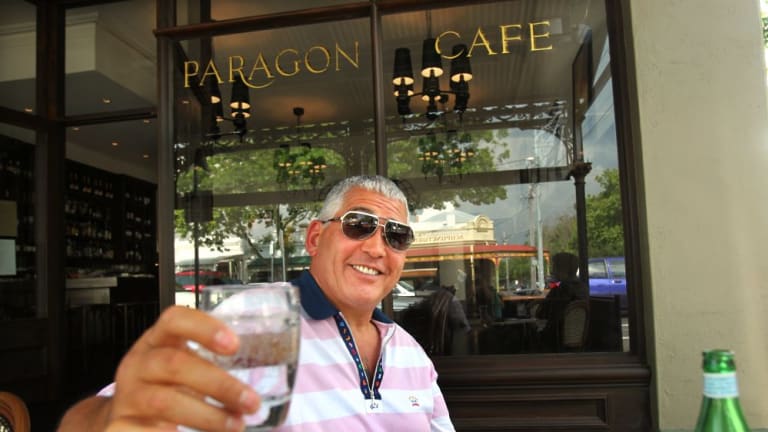 An off-duty police officer, who was in the area at the time, took off after the offender on foot.
"An altercation then took place and the off-duty police officer was assaulted," Senior Sergeant Bock said.
The offender was captured soon after, and is currently being questioned by police.
Senior Sergeant Bock said she was "astounded" that no one else had been injured.
"I must say, I have never seen a scene like this in my life," she said.
"There are hundreds of people here, having coffee, families of all ages sitting down and enjoying a normal Saturday morning.
"It's incredibly lucky that more people aren't injured."

Owner of the Paragon Cafe, Joe Mullen, said the injured woman received a bump on her head before being taken to hospital.
"[It] sounded like a freight train," said Adam, a local who said he pulled his girlfriend Samantha out of the way of the ute as it bore down on the couple and their two poodles. "I saw his face," said Samantha. "He looked possessed. It looked deliberate."
A chair caught under its wheels sparked and smoked, witnesses said.
Customer Dayna Andreussi said she heard the ute driving down the footpath at what she estimated was about 60 kilometres an hour.
''Normally there are dogs and people with prams. Everyone when out to the front...we saw him come back up the street...he turned in and rammed the shop.''
Ms Andreussi said a man got out, stood at the door of the car and appeared to be searching for something behind the seat. ''I was terrified he was going to get a gun.''
She said the man was wearing a blue checked shirt, a blue beanie was of a slim build and an average height.

Edward Crouch was having coffee with his father when the man smashed into the cafe, missing him by a foot.
"We saw a guy collecting everything in his way," Mr Crouch said.
"The axel of his car was dragging along the ground."
Mr Crouch said the man had a "darker complexion" and looked dishevelled.
"He was clearly drug affected. I noticed his eyes, and he was very agitated," Mr Crouch said
"There's a lot of damage here. The street has been trashed. I'm amazed no one was killed," another witness said.
The Paragon Cafe is owned and operated by Joe Mullen and the daughter, son and son-in-law of underworld figure Mick Gatto.

With Ben Butler
Morning & Afternoon Newsletter
Delivered Mon–Fri.