Despite what the supermarkets would have Melburnians believe, Easter is not just about chocolate and hot cross buns.
Christians turned out in droves on the weekend to celebrate their belief in the resurrection of Jesus Christ.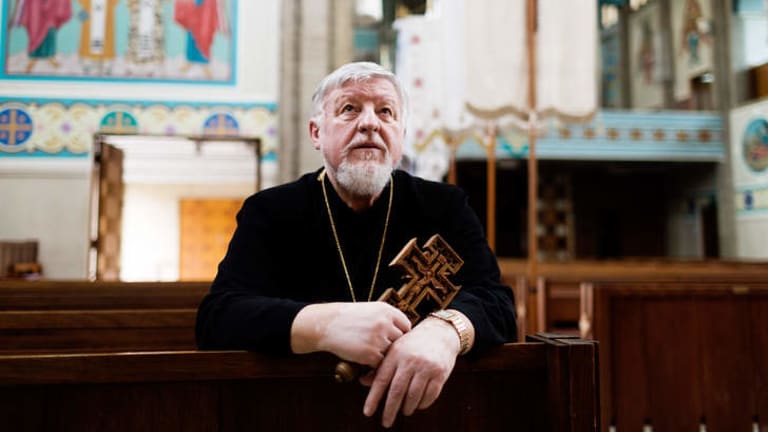 For others Easter is a time of love, family, hope - and, yes, chocolate and hot cross buns - as well as a chance to relax and watch the footy.
Bradly Billings, the vicar of St John's Anglican Church in Toorak, said that even during Easter parishioners exhibited a distinctly Melbourne touch: ''The sharing - or gloating - about the very poor performance of my team, Essendon, the previous night.''
Despite this obsession with footy, Dr Billings said many Anglican families still saw Easter as a traditional and spiritual anchor in the face of the more unpredictable modern life, and celebrated by going to Mass, followed by ''various lunches and get-togethers''.
Eugene Hadryszko, a member of the Ukrainian Catholic Cathedral committee, said Easter this year was dedicated to praying for a peaceful solution in Ukraine.
''We're using Easter to pray that everything gets better over there,'' he said. ''We are praying for our homeland.''
Mr Hadryszko said the egg - a central symbol of Easter - ''represents life and Christ … and hopefully a better life in the Ukraine''.
In contrast, Father Ken Boland from St Francis' Catholic Church said Easter was a time of happy memories.
''I was very lucky to have been brought up in a very loving family, and we used to do wonderful things at Easter that imprinted on a little child's brain-box,'' he said.
Father Boland said that a crowd of more than 1000 churchgoers had spilled on to Lonsdale Street - where the church is located - excited to take part in this important Christian celebration.
''I was astounded to see the number of people that keep coming [to church] … despite the scandal [within the Catholic church],'' Father Boland said.
''They're coming in bigger numbers than ever before.''
Morning & Afternoon Newsletter
Delivered Mon–Fri.