A sign condemning violence against women and children erected on Phillip Island after the death of local mother Samantha Fraser has been vandalised.
The roadside billboard, erected by Westernport Water as part of a local campaign to fight family violence, has been defaced four times since it was put up more than a month ago.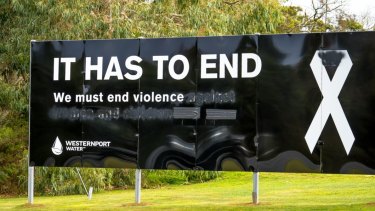 The sign originally read: "It had to end. We must end violence against women and children."
But the sign has been vandalised four times since it was put up in late July, with the most recent incident prompting Westernport Water to make a police complaint. In one of the incidents, the vandals added the words "and men" to the end of the sign.
Then, on Friday night or early Saturday morning, the words "against women and children" were painted over with black spray paint.
After speaking to community groups, Westernport Water had been planning to restore the billboard to its normal message this week but has now taken it down early because of the graffiti.
Westernport Water managing director Peter Quigley said the organisation was undeterred in its pledge to help end violence against women.
"All forms of violence are abhorrent. However, with one in three women experiencing physical or sexual violence in their lifetime, there is no doubt that this is a gender-based issue," he said.
"Education is the key and something must change. Westernport Water is unwavering in its commitment to advocate in our community for the prevention of men's violence against women."
Ms Fraser, 38, was found dead in her Cowes home on July 23 by police who checked in after she failed to pick up her children from school. Her ex-husband, Adrian Basham, has been charged with her murder.
The Cowes community has mobilised in the wake of Ms Fraser's death to combat domestic violence. White ribbons were tied to the trees and local businesses all over town in the weeks following the mother-of-three's death.
Phillip Island locals and friends of Ms Fraser took to social media to say the graffiti was "incomprehensible" as the community was still "pretty raw" after her death.
Alice Bradley, a friend and colleague of Ms Fraser who has been one of the leaders of a campaign to increase domestic violence services on the island, said the vandalism was disappointing.
"I know the company were very upset, a lot of people are really disappointed," she said.
"It's funny though, the number of people [who] feel it shouldn't be just violence against women but violence against everybody. A number of people have been forceful about that ... ''
Statistics contained in a public health and wellbeing plan released by the Bass Coast Shire Council found the district has a much higher rate of domestic violence than the rest of the state, with 15.6 incidents per 1000, compared with the Victorian average of 10.8 per 1000.
White Ribbon Australia's chief executive, Tracy McLeod Howe, said she was proud of the way the Phillip Island community had come together.
"I feel very inspired by the local community to unite and use this tragedy as a catalyst to end men's violence against women and children. I am also extremely disappointed to learn that the billboards with the White Ribbon message have been repeatedly vandalised to include the words 'and men'," she said.
"Violence in our society needs to end. There is absolutely no excuse for disrespect, abuse and violence against anyone – women, children and men. Period.
"Our national statistics show that one woman dies each week on account of domestic violence.''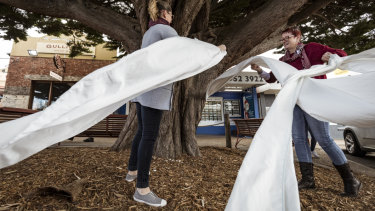 Anyone with information is urged to contact Crime Stoppers on 1800 333 000 or submit a confidential report online at crimestoppersvic.com.au
For help or information regarding domestic violence call the Sexual Assault, Domestic Family Violence Counselling Service 1800 737 732. Online you can visit www.1800respect.org.au. In an emergency call triple zero.
Simone is a breaking news reporter for The Age. Most recently she covered breaking news for The Australian in Melbourne.