Geoff Shaw has raised the prospect of quitting before November's state election, potentially plunging the Napthine government into yet another political crisis.
Merely days into his suspension from Parliament, the independent MP said while it was his ''intent'' to recontest the seat of Frankston, he would consider pulling out if polls suggested that he was headed for defeat.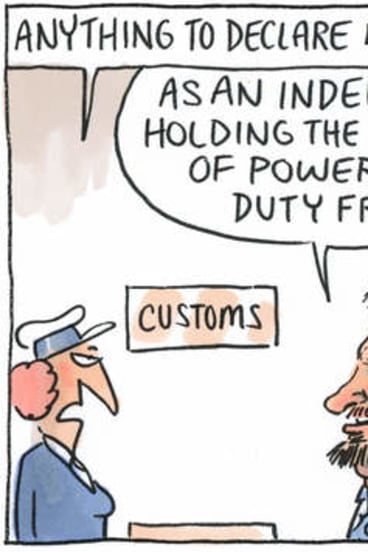 ''I'm not going to go into a known loss,'' he said. ''At the moment there's good support in Frankston, so we'll see.''
Mr Shaw made his comments in a candid interview with comedian Sammy J at the Wheeler Centre on Friday night, in which he lashed out at premier Denis Napthine, jokingly apologised for misusing his parliamentary car and played the bagpipes in front of a bemused audience.
For the first time, the evangelical Christian also revealed that his deeply religious faith began at the age of 25, after seeing a newspaper advertisement for a church that performed ''miracle healings''. Mr Shaw said he decided to visit the church, where they prayed for a knee injury he had sustained during sport.
''I went for a run the next day and I was healed,'' said the MP, a member of the Peninsula City Pentecostal church.
Friday's event was the first time Mr Shaw had appeared publicly since his suspension last Wednesday, when the government used its numbers to thwart Labor's push to expel him permanently.
But his suggestion that he may withdraw from the November 29 poll may trouble Coalition hardheads who had hoped the risk of a byelection in Frankston had been all but quashed by last week's events.
Others are convinced Mr Shaw will run, motivated by the $36,000 ''resettlement'' payment he will get from taxpayers simply for re-contesting, even if he loses.
The government insists that Mr Shaw's suspension is the toughest sanction imposed on any state MP in more than 100 years.
In addition to paying back $6838 for misusing his car and he is required to apologise for his actions.

Farrah Tomazin is an Investigative Reporter for The Age, with interests in politics, social justice, and legal affairs.
Morning & Afternoon Newsletter
Delivered Mon–Fri.