How Victorian police faked breath tests
Victorian police faked more than a quarter of a million roadside breath tests in what appears to be a ruse to dupe the system, The Age revealed this week.
In total, 258,000 alcohol breath tests were falsified over 5½ years - about 1.5 per cent of all tests carried out in that time.
How did police fake breath tests?
Officers may have been blowing into the breathalysers themselves, one after the other, after the other.
But it's more likely they were placing a finger over the disposable straw attached to the breathalyser, or the hole on the machine that the straw is plugged in to.
Blocking that hole tricks the breathalyser into thinking a test is taking place.
How were they caught?
The Transport Accident Commission was the first to raise concerns to Victoria Police after it found an anomaly in data late last year.
An internal police audit then found a suspicious number of breath tests were being conducted in quick succession.
Normally, there should be some space of time between each test to take into account an officer on the road talking to a driver and breathalysing them, before moving on to the next car.
But the faked tests were occurring one after the other.
Why did police do it?
Quotas come into play here.
Police are sometimes asked to carry out at least 50 - and at times up to 100 - breath tests on a single shift, while dealing with other crimes.
Police Association secretary Wayne Gatt says critically under-resourced and over-worked police were faking breath tests to try to meet the unrealistic targets.
There's no financial incentive for officers to fake tests.
Could my breath test have been affected?
No. Police say it has not led to wrongful fines or prosecution of people in the community, given that no driver was actually tested.
Where was it happening?
It is believed general duties and highway patrol members were largely responsible, with some rural areas over-represented.
It was not occurring at supervised drug and alcohol bus testing sites.
What will happen to officers who faked breath tests?
Former Victoria Police chief commissioner Neil Comrie will lead an independent investigation into the scandal.
Assistant Commissioner Russell Barrett says police have not ruled out disciplining individual officers.
However, because the devices aren't assigned to individual officers, it may be impossible to find out exactly which police officers were falsifying the tests.
What are the consequences for Victoria Police?
The Transport Accident Commission has suspended its $4 million in annual funding to Victoria Police in the wake of the scandal.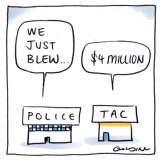 Part of that funding is used to pay officers to work extra shifts during holidays and long weekends to conduct roadside breath and drug tests, and detect speeding.
The TAC will only reinstate the funding once it is satisfied police are no longer faking breath tests.
Tammy Mills is a Crime Reporter for The Age.