The mother of 10-month-old baby Chloe Murphy who police claim died after being violently shaken by her babysitter has today denied killing her daughter.
"I never did anything to my daughter," Phuritee Murphy told the Melbourne Magistrates Court this afternoon during a dramatic confrontation with the babysitter's defence barrister, Robert Richter, QC.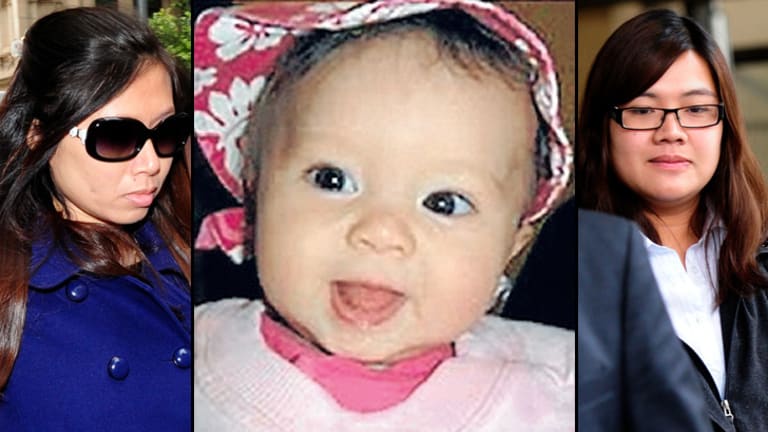 Mr Richter claimed Mrs Murphy did something to Chloe and could not bear to live with the responsibility so she had blamed the babysitter, Ketapat Jenkins.
He said it might have been an accident and Mrs Murphy did not mean to hurt Chloe.
Mrs Murphy denied the claim.
Chloe was unconscious and completely limp when her parents, Anthony and Phuritee, picked her up from Jenkins' home just after 11pm on December 3, 2010, after going out for dinner and a movie.
She died in hospital two days later.
Jenkins, 28, of Kensington, has been charged with Chloe's manslaughter.
In surgery, it was discovered that Chloe had a fractured skull, and she had a subdural haematoma removed.
An autopsy concluded the cause of death was a head injury and three fractures were found in the baby's left arm.
Mrs Murphy was called to give evidence at the committal hearing for Jenkins at 3.30pm today.
Yesterday, under questioning from Mr Richter, forensic pathologist Melissa Baker said it was possible the head injury suffered by Chloe could have occurred before she was taken to the babysitter's house.
Dr Baker agreed Chloe could have suffered head trauma up to two days before falling unconscious.
Mrs Murphy today admitted she and her husband had argued on October 30, 2010, and she had used a stroller to smash their car window while Chloe was in the back seat.
She said she did not normally lose her temper.
Mr Richter said Mr Murphy's evidence was that during the argument he told her: "You stupid bitch. Look what you've done. You've broken my windscreen. Don't touch my baby ever again."
Mrs Murphy said it was the couple's biggest argument but they made up later that day and loved each other.
She denied being stressed in the month leading up to Chloe's death, but admitted having had a miscarriage on November 22 and then having to go to hospital on November 30 following complications.
Mrs Murphy told the court Jenkins would get easily angered and had confided in her that she would sometimes hit her own two children.
Mr Richter said Mrs Murphy was lying and never told police Jenkins had been violent to her own children.
"Why would I lie? Mrs Murphy asked.
"You know you did something to Chloe and you're trying to blame her (Jenkins)," Mr Richter replied.
"I never did anything to my daughter," Mrs Murphy said before completing her evidence at 4.35pm.
The court was earlier told the injuries Chloe suffered were most likely to have been caused by extreme vigorous shaking.
Royal Children's Hospital opthamologist Dr James Elder said he believed it was extremely unlikely Chloe had had a minor fall.
Dr Elder said Chloe was found to have retinal haemorrhages and her condition was consistent with "a non-accidental mechanism of injury".
Questioned by prosecutor Brendan Kissane, Dr Elder said it was most likely the child had been extremely vigorously shaken and possibly dropped or thrown against something else with force to cause a skull fracture.
Dr Elder said he was aware that "shaken baby syndrome" was a controversial issue in medical circles.
There was a group of medical professionals who believed the concept was false but Dr Elder disagreed. There was ample evidence to prove the condition did exist, he said.
Dr Elder said there was no precise data on the issue as shaking a rat or a one-day old pig in medical experiments was not the same as a human infant. He did not know if any tests had been carried out on primates.
Questioned by Mr Richter, Dr Elder agreed he did not know exactly what had happened to Chloe.
The committal hearing continues tomorrow.
Morning & Afternoon Newsletter
Delivered Mon–Fri.