It's late afternoon, and Andrew Sayers is enjoying a hard-earned break in Melbourne's afternoon sun.
As one of the country's leading curators, Sayers has hung exhibitions for Sidney Nolan and Albert Tucker. But this day has brought a personal sense of achievement. After more than 30 years staring at the works of others, he has just finished hanging the last painting in the first major showing of his own art.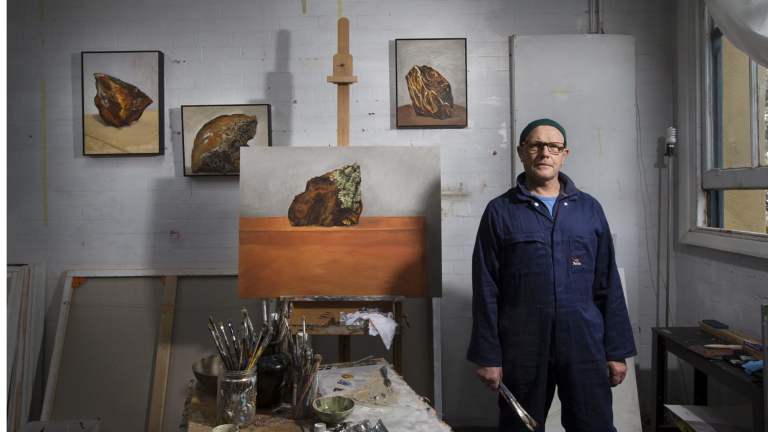 "Sixty-nine paintings on the walls in two days, and it feels great," Sayers says.
Life has come full circle for Sayers. Born in England, he arrived in Sydney in 1964 with his family at just seven years of age, and was raised in the rugged bushland of Sydney's northern fringe. There he developed a love for Australia's ancient landscape, and learned to express that love through painting.
After university, he landed a job at the Art Gallery of NSW. "Exploring works tucked away in back rooms, I decided I wanted to be a curator, not a painter," Sayers says.
By 1998, he had risen through the ranks and was selected as the inaugural director of the National Portrait Gallery in Canberra. "We started with few rooms in the old Parliament House and a staff of six," he says. "Just after I left we opened the new purpose-built building."
Other people's art was Sayers life, but he always maintained a studio at home. "Painting was my little secret, something I didn't share with others."
After years as a commuter couple, Sayers quit Canberra life in 2013. He moved to Melbourne to join his wife, Perry, who worked for the Victorian government, and set up a studio in Richmond. Then, in May last year, Sayers was diagnosed with cancer.
"Stage four pancreatic cancer," he says. "One doesn't have to go far into Google to understand the ramifications of that."
The next day, Sayers returned to his Richmond studio, where he had been working on a self-portrait, and finished the painting. That work was a finalist in the 2014 Doug Moran National Portrait Prize.
"I describe [cancer] as being the background static of my life," Sayers says. "But the diagnosis has made me fearless. Before it, I would have waited another year or two before showing anyone my paintings. Now I just say 'this is me'."
Sayers may be synonymous with portraits, but it's the Australian landscape that dominates his show. "Nearly all the works have come from the last two years in Richmond," he says. "Inspiration has come from windy headlands, washed up bluebottles. The mood I wanted to convey is from the beach and the Victorian coast. It's very elemental."
Andrew Sayers: Nature Through the Glass of Time, May 2 - June 27, 2015. Lauraine Diggins​ Fine Art, 5 Malakoff Street, North Caulfield